Gigi Hadid Knows She's a Nepo Baby: "I Don't Think I'm the Prettiest Person in the World"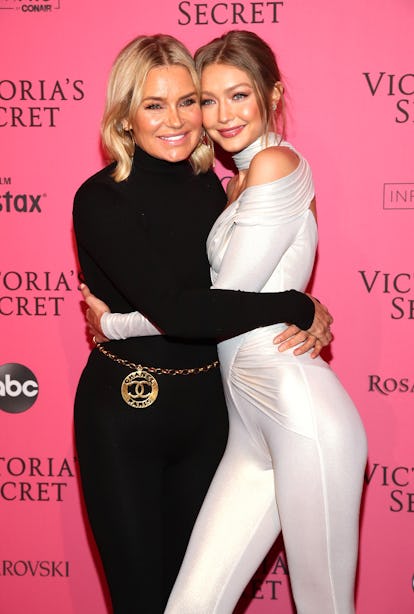 Astrid Stawiarz/Getty Images Entertainment/Getty Images
In case you were wondering, Gigi Hadid is aware of her privilege. While the model mostly stayed out of the recent conversations surrounding nepotism in the film, television, music, and modeling industry, she's opening up now about how her parents' successes have afforded her an easier path than others. And while she may not go all out and buy herself a "nepo baby" t-shirt, she isn't afraid to talk about it.
"Technically I'm a nepotism baby," Hadid told the Sunday Times. The model, however, was quick to clarify that her parents—real estate developer Mohamed Hadid and model-turned-Real Housewife of Beverly Hills Yolanda Hadid—put in the work to provide their children a privileged upbringing. "My parents came from very little," she said.
"My parents told me, 'Just because you have parents who were successful, it doesn't mean that you shouldn't walk into the job being as nice and as hard-working as you can be,'" she continued.
During the conversation, Hadid got slightly self-deprecating, saying, "I don't think I'm the prettiest person in the world," and even suggesting that "some Botox could probably help." But the model admitted that she's "not so obsessed" with her looks that she would "do anything about it."
This isn't the first time Hadid has spoken about nepotism. "I've always acknowledged that I come from privilege," she said in the Times piece, and she is correct, in a sense. Back in 2018, the model spoke with Vogue Australia about her famous upbringing. "I know I come from privilege, so when I started there was this big guilt of privilege, obviously."
"There are so many girls who come [from] all over the world and work their arses off and send money home to their families like my mother did," she continued. "I wanted to stand next to them backstage and for them to look at me and respect me and to know that it's never about me trying to overshadow or take their place."