The Official Gossip Girl Cameo Count
Spotted: New York's downtown darlings, members of the Twitterati, and cult favorite fashion designers on the new season of Gossip Girl.
---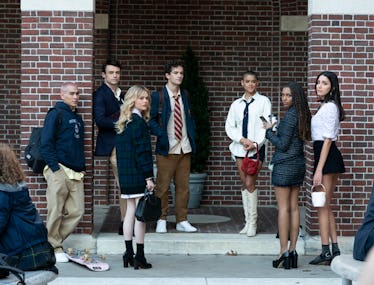 Courtesy of HBO Max/Warner Media.
Caution: spoilers ahead.
By now, you've probably caught wind that the Upper East Side has once again been taken over by twenty-somethings playing teens in their private school uniforms—fashionably paired with Prada boots and Telfar bags, of course—for the new iteration of Gossip Girl, a continuation of the original series now streaming on HBO Max.
It's an exciting time for fans of the original, and in the first episode, the big reveal happens much quicker than it did in the original iteration of the teen drama series: Gossip Girl is—gasp—a teacher. And not just any teacher—the digital tyrant is actually a collective of multiple teachers, played by Tavi Gevinson, Adam Chanler-Berat, and Megan Ferguson. It's a move that may leave viewers feeling both surprised and relieved. Now that we don't have to spend all of our time wondering who is the mastermind behind the anonymous Instagram account, we can focus on more fun things, like the cameos.
In the original Gossip Girl, the cameo appearances were aplenty, with many socialites, supermodels, and celebrities popping up to perform in the background or utter one simple line. Sure, there was an appearance from Jared Kushner and Ivanka Trump (that did not age well), but the show also opened up guest spots for Tinsley Mortimer, Florench Welch, Karlie Kloss, Cyndi Lauper, Lady Gaga, and more. Whomever was the talk of the town from 2007 to 2012 would often find themselves popping up on The CW show during its six-season run. And in this continuation of the original Gossip Girl, the cameos are just as fun—if not more fun—than the celebrity appearances of the past.
So, we're keeping a log of every celebrity cameo made on this new season of Gossip Girl as new episodes are released each week on HBO Max. Try and see how many of these celebs you spotted.
Season 1, Episode 1: Just Another Girl on the MTA
The very first episode of Gossip Girl gets you acquainted with Julien Calloway (Jordan Alexander) and her half-sister, Zoya Lott (Whitney Peak), a new attendee at the recently merged Constance Billard and St. Jude's private school. The anonymous Instagram account (which we also learn is run by Kate Keller, a frustrated teacher played by Tavi Gevinson) tries to sabotage the sisters and pit them against each other—with Calloway's boyfriend Otto "Obie" Bergmann IV (Eli Brown) getting caught in the middle, too. And somewhere in there, there's a runway show at New York Fashion Week, revealing the latest collection from Christopher John Rogers, who makes a cameo during the fashion show.
But before Julien can step out on the catwalk, she runs into Lindsay Peoples Wagner, editor of The Cut, who tells her, "I've got my eye on you." Meanwhile, Zoya gets the seal of approval from writer and Gagosian Gallery curator Antwaun Sargent. "Love that," he says when he spies the outfit her half-sister has graciously lent her for the occasion, as she's shuffled along to her seat at the Armory, unwittingly about to be caught up in some embarrassing drama orchestrated by Julien's lackeys—or her publicist and image consultant, however you want to look at it—Luna La (Zion Moreno) and Monet de Haan (Savannah Smith). In the crowd at the fashion extravaganza, we also spotted Tik Tok star Marc Sebastian and Interview's creative director and Rihanna's former stylist Mel Ottenberg in a blink-and-you'll-miss-them moment during the show. And did you spy singer and cellist Kelsey Lu?
Season 1, Episode 2: She's Having a Maybe
While no celebrities may have made their way to the Upper East Side for this week's episode of Gossip Girl 2.0, there were still a couple notable names that popped up here and there. Little Zoya Lott is trying to be all grown up, much to her father Nick's dismay. And of course, part of the education of every young New Yorker who is trying to be a little bit wiser than their years includes reading material that is certainly NSFS (not safe for school). So, of course Zoya picks up a copy of Jeremy O. Harris's Slave Play, and conspicuously reads it in the courtyard, where everyone, including her new "friend" Obie, her half-sister Julien's ex. Outside of the Gossip Girl universe, Harris has been spotted on Instagram with many members of the cast. Could his Tony-nominated play's appearance be a good omen of a cameo to come?
And as for Audrey Hope, she's giving herself a little extracurricular literary education too. Hers comes in the form of Black Swans by Eve Babitz—nine stories about the '80s and '90s and all of the Hollywood hedonism that someone like Audrey is certainly missing out on in her vanilla relationship with Aki (Evan Mock).
Season 1, Episode 3: Lies Wide Shut
Well, it finally happened. After months of teasing his involvement with the series, Tony-nominated playwright Jeremy O. Harris makes an appearance at the debut of his new (fictional) play—AARON: The Bloody and Lamentable Tale of the Moor's N*gga Prince—at The Public Theater when Max's dads get front row tickets to the show (while the Wolfe offspring convinces Aki to embark on a catfishing endeavor involving his parents and his teacher). Of course, that's not the only front row show they're all treated to—Zoya and Obie's relationship is in a bit of a bind, and Julien, her dad Davis, and his new secret girlfriend (Beck from You, is that you?) experience a seating snafu that causes more drama to make your head spin. (Theater connoisseurs will also recognize The Public's artistic director Oskar Eustis, New York 1 host Frank DiLella, and theater producer David Binder in the sequence).
But Zoya, being the theater aficionado that she is, is the only one who actually gets to talk to her playwright hero, who shows some special interest and asks her, "Babe, who are you?" after she defends his provocative play. Could this be the beginning of a beautiful friendship for Little Z? Or at least a summer internship Off-Broadway?
Season 1, Episode 4: Fire Walks With Z
There's a lot going on in this episode, especially with regards to the dueling parties thrown by Julien and Zoya. But what's really special about this one is that it harks back to the days of the original Gossip Girl series, and its musical performance cameos. Robyn, Lady Gaga, Florence and the Machine—they've all performed on the show. This time, though, Gossip Girl 2.0 went for someone a little less pop: Princess Nokia. Apparently the kids (well, Julien, mainly) are such big fans that the rapper inspires them to fumble their words in her presence. "Baby, I love to party, but I want you to drink some water," she tells an unknowingly wasted Julien, who then embarrasses her sister, apologizes, and brings Princess Nokia onstage to perform like she didn't just ruin Zoya's life on her birthday. How messy.
Season 1, Episode 5: Hope Sinks
It wouldn't be Gossip Girl without a special themed episode, now would it? In episode 5 of the revival series, we find Julien making amends for the birthday drama she caused for Zoya, and Luna coming around to working little Z into JC's overall brand and image. Monet, on the other hand, isn't quite convinced (and neither is Audrey). But when the two sisters decide to portray an iconic duo at the annual Halloween costume party, naturally things get messier.
It's not that the idea is bad. On the contrary—Luna, Julien, and Monet all agree that Zoya's idea to dress as the Solange to Julien's Beyoncé and pay homage to the iconic Met Gala elevator incident is nothing short of a stroke of genius. But when they arrive, they find themselves upstaged by rivals from another school, Pippa and Bianca, who have decided to show up to this Halloween party as Blair Waldorf and Serena van der Woodsen. This must be the cameo from the original series that showrunner Joshua Safran teased would make an appearance (we were hoping it would be Dorota), or maybe it was Nelly Yuki (Yin Chang), Blair's academic nemesis who made an appearance dressed as Eva Chen. Quick-thinking Julien decides to ditch the Bey and Solange moment and steal Aki and Obie's costume suits so that she and her sister can crash Pippa and Bianca's photos and one-up them as Dan Humphrey and Chuck Bass.
Of course, at the Halloween party, there is a musical guest: Tony-winning Billy Porter all dolled up performing "I Put a Spell on You" while accompanied by composer Marc Shaiman. This episode was for the theater kids. NY1 legend Pat Kiernan popped up on the screen early in the episode as well.
Season 1, Episode 6: Parentsite
Can Obie and Zoya really make it together if they are cut from such different cloths? It's not looking likely, according to this episode. When Obie's mom Helena (Lyne Renée) drops in from Germany, and Aki's dad (Malcom McDowell), a conservative media tycoon à la Succession's Logan Roy, hosts a small dinner, Zoya's convictions get her in some hot water, and Audrey's loose lips let some news about her boyfriend slip.
The cameos in this episode were minimal (unless you include Audrey's copy of a Joan Didion novel that she's clutching in her hands), but NBC News anchor Gigi Stone Woods approaches Aki about his sexuality after his father semi-outs him on local television news.
Season 1, Episode 7: Once Upon a Time in the Upper West
Finally, we can say it: the classically messy Thanksgiving episode is back. It would simply not be Gossip Girl without it, and the series creators clearly agreed, so we're giving thanks to them for recognizing the importance of a topsy-turvy family gathering at the end of November. Extra helpings of chaos, please.
And just when you thought you'd met enough parents on this reboot, we are finally introduced to Max Wolfe's mom, played by Lucy Punch. At least it's clear where he gets his mischievous spirit from now.
This article will be updated as new episodes are made available.
This article was originally published on