Jessica Alba Dresses Her Family in All Green for Honest Company's IPO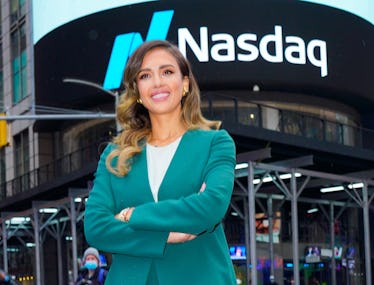 Photo by Gotham/GC Images
Green is the color of money, the environment—and was Jessica Alba's family's wardrobe on Wednesday as the actress went to the floor of the NASDAQ in New York City for the initial public offering of her brand Honest Company (the company's official color is, of course, green). Alba, husband Cash Warren, and youngest children Haven and Hayes, all wore various shades of green, including mint, as Alba herself made—quite literally—a tidy mint. After yesterday's stock market debut, the clean beauty and households company is now worth over $2 billion. Bloomberg News estimates that Alba herself made about $122 million yesterday alone.
Alba has emerged as perhaps one of Hollywood's truest entrepreneurs. She first got the inkling for the Honest Company back in 2008, after the birth of her first daughter, Honor. The tale goes that Alba had a hard time finding baby supplies that were free of worrying chemicals. Over the next few years, she recruited business partners Brian Lee, Sean Kane, and Christopher Gavigan, and launched Honest in 2012. The company holds itself to far stricter European standards when it comes to ingredients, and has a strong environmental and charitable mission as well. Alba's company now sells everything from diapers to glass cleaners and mascara.
While Alba's celebrity certainly is a differentiator for the brand, its worth isn't contingent on Alba's own fame like so many other celebrity side hustles. It turns out several other parents had similar worries, and Alba was in early on consumer-driven trends. Several legacy competitors have since adapted clean and green lines as well.
"I feel like I'm in a dream, to be honest. Wow. Is this really happening?" Alba told Bloomberg TV. "I'm so grateful to our very loyal community. Thank you for bringing us into your home. Thank you for trusting us with your most precious people, your little people."
Alba's company has also attracted high-profile investors over the years, including L Catterton, a private equity firm backed by Bernard Arnault, the chairman and CEO of Louis Vuitton's parent company.
Despite her business success as the company's chief creative officer and co-founder, Alba has continued to act, most recently starring in the television series L.A.'s Finest opposite Gabrielle Union.
Related: Jessica Alba Shares Her Daily Beauty Routine And Explains Why She's Scared To Get a Pixie Cut