Kanye West Returns to Instagram With a Simple Valentine's Day Message
Welcome back to the good life.
---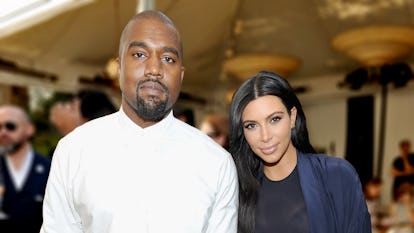 Getty Images
And with four words, the maestro is back. Any other syllables would've been deemed superfluous.
After a notable social media disappearance that's lingered over the past year, Kanye West returned to the world of influencers and hashtags to wish his wife, Kim Kardashian, a very lovely Valentine's Day. "Happy Valentine's Day Babe" his simple, monochromatic card read on Instagram. Keeping the romantic vibes flowing, he then followed it up with a blast of photos of iconic couples past and present including the Obamas, Madonna and Sean Penn, and Cindy Crawford and Richard Gere. He's certainly in a different mood than that time he spammed Instagram with 99 photos of old Margiela lookbooks.
Earlier in the day, Kardashian West also flaunted her Buzz Lightyear–esque love for West on the social media platform, although her cropping job could use a little work: "I love you to infinity!"
As mentioned, this is the first time West has posted anything on social media — Instagram, Twitter, LinkedIn, Periscope, or otherwise — since last May, when he mysteriously scrubbed all of his accounts without warning. (Although he had only sporadically been using his accounts in the months leading up to the blackout, following his hospitalization for exhaustion.)
Don't refresh his Insta too much, now. It'll hurt your finger bones. Patience is a virtue.
Related: Barack Obama, Kim Kardashian, Chrissy Teigen and More Celebrities Celebrate Valentine's Day 2018
What 10 Male Models Are Doing for Valentine's Day
Adonis Bosso: "For my ideal Valentine's Day, I would rent a boat and have a couple bottles of wine…or harder alcohol…and just cruise around until the sun sets."
Photo by Hadar Pitchon.
Trè Samuels: "My girlfriend is back home in Australia, so Skype date."
Noma Han: "I'll be at work at Blackfish Tattoos. A lot of couples come in for tattoos on that day."
Michael Lockley: "Movie and chill."
Mitchell Slaggert: "Something really special. It's a surprise, so I can't tell you…"
Erik Van Gils: "I never do anything for Valentine's Day! I haven't really had a girlfriend in February for years, so I'm happy I don't have to worry about it."
Photo courtesy of Request Models.
Alijah Harrison: "Valentine's Day 2016 will be spent single and I ain't even mad. If I had a lady, I would wine and dine her late into the evening."
Photo by Grant Mills, courtesy of Soul Management.
Roberto Sipos: "When is Valentine's Day?"
Photo by bfanyc.com.
Fernando Cabral: "I would go to a nice restaurant."
Conrad Bromfield: "I'm going to bake a chocolate cake…for myself."
Photo by @conradbb.