Things Aren't Necessarily Over Between Gigi Hadid and Leonardo DiCaprio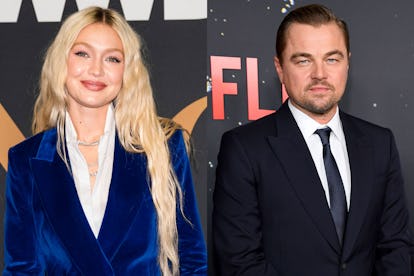 Gotham/WireImage/Kevin Mazur/Getty Images for Netflix
If you're team Leonardo DiCaprio and Gigi Hadid (or Leonardo DiCaprio and anyone over the age of 25), you may have been disappointed to learn the actor apparently spent the last days of 2022 with a different model. But now, it's being reported that this doesn't necessarily mean the end for DiCaprio and Hadid's romance, and we could be seeing more of them together soon.
A source told Entertainment Tonight that "Leo and Gigi have enjoyed their time together when they're able to see each other, but when they're busy with various commitments, they're doing their own things and they are not exclusive." The two reportedly "have respect for one another and have always just been seeing where things go." Right now, Hadid's "main priority is her daughter" as well as her career, while DiCaprio is apparently just "having fun and prioritizing work and spending time with friends."
That much was clear when the actor was spotted with model and actress Victoria Lamas, 23, last month. Lamas was seen getting into a car with DiCaprio after a night at The Birds Streets Club in Los Angeles, and her father, actor Lorenzo Lamas, later confirmed to the New York Post that his daughter is, in fact, "smitten" with DiCaprio. "I know she likes him very much," he said. "I think they met last month. I'm not sure of the circumstances, but that's what she told me."
Apparently, Victoria wasn't too happy with her father blabbing to the press and he later called back the Post to clarify a few things. "They're friends, they're not in a serious relationship," he said. "And I just want that to be clear."
But Victoria isn't the only new face in DiCaprio's life. The actor was also seen earlier this month on a yacht filled with many bikini-clad women. Hadid, meanwhile, is focused on "keeping things positive and chill."
Hadid and DiCaprio were first linked in September of last year not long after he ended things with Camila Morrone. At the time, People reported that the pair was hanging out in New York City during fashion week and were just "getting to know each other," but the actor definitely had his eye on the model and was actively "pursuing" Hadid. Since then, not too much has been revealed about the nature of their relationship aside from a few hang outs with friends, and many assumed things had fizzled out between the pair. Now, though, it seems like things could pick up again soon. Hopefully, Hadid likes yachts and hanging out with Tobey Maguire.