HBO Complained About Nicole Kidman's Big Little Lies Payday, but Then Gave Her Another Show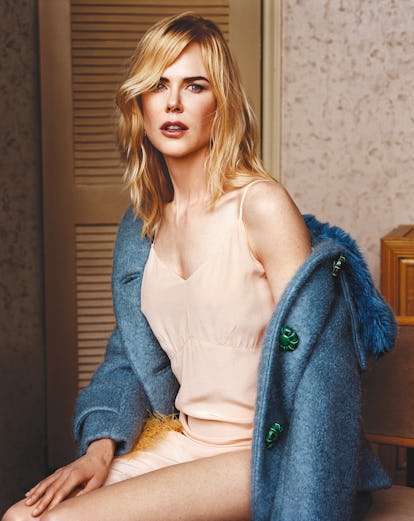 ALASDAIR MCLELLAN
As just about the entire world knows by now, Nicole Kidman, Reese Witherspoon, and the rest of the women are coming back to HBO for a second season of Big Little Lies, with Meryl Streep in tow.
Because the network never anticipated a sequel, the cast was free to renegotiate bigger contracts for season 2, and Witherspoon and Kidman will reportedly nab $1 million each an episode. Assuming that, like the first season, the sequel is seven episodes (and IMDB listings appears to confirm this), that means each actress take home $7 million, or $14 million total, for the season. Incidentally, that total is still less money than HBO shells out for the production of a single episode of Game of Thrones these days. (It takes a lot of money to animate those dragons.)
Still, the big paydays should be heartening news in the age of Time's Up and serious discussion of Hollywood's gendered pay gap (it was also revealed today that Netflix paid Claire Foy less than co-star Matt Smith for The Crown). Yet, an HBO executive couldn't help but openly lament the situation during a television conference in Israel this week.
"From a budget standpoint going into season two of Big Little Lies without any options in place we've been… um… short of raped," HBO drama chief Francesca Orsi reportedly said.
Now, that is never an appropriate expression to employ when talking about anything other than sexual assault. But it seemed especially egregious when used to discuss negotiations around a show that deals explicitly with the repercussions of rape and domestic abuse.
Orsi quickly issued an apology to CNN, writing, "Obviously, I am embarrassed by my poor choice of words."
This isn't the first crude comment made by an entertainment executive about the show. A former Amazon exec asked a group of staffers if the two stars would "show their tits" and mused aloud why he would greenlight the show if they didn't. But particular word choices aside, how are we expecting the pay gap to ever be closed when it's still OK to openly lament occasions where women actually triumph in a negotiation? Especially when HBO can almost certainly afford it.
After all, the network is signing on Kidman for yet another limited series. She'll team up again with Big Little Lies executive producer David E. Kelley for an adaptation of Jean Hanff Korelitz's 2014 novel You Should Have Known. For television, the project will be renamed The Undoing, and Kidman will star as a celebrated therapist on the verge of publishing her first self-help book when someone gets brutally murdered; her husband, who has been leading a second life all along, goes missing; and her entire life falls apart. The catch is that her book was all about telling women to not ignore the major red flags hanging about men in her life and, well, it turns out she wasn't really taking her own advice.
No word on how much Kidman will get paid per episode, but, hey, we hear she doesn't come cheap.
Still, HBO could probably bankroll half a dozen Kidman-starring limited series (and we're sure there's an audience for that) for the price it pays for a single cycle of Game of Thrones. The past season is rumored to cost somewhere around $90 million for just six episodes, and Orsi also talked about the potential "budget conundrum" that might come with greenlighting one of the potential spinoffs. "We can't obviously start with the budget of season 8, but would it be a Game of Thrones season 3 budget?" she said at the same conference.
Just for context, the network reportedly shelled out $100 million for the first seasons of both Westworld (a nice hit) and Vinyl (a '70s-set flop that didn't even have any CGI dragons or robots in its budget). It can probably afford to keep giving some A-list actresses $1 million an episode for some quality work here and there.
Related: Emily Blunt Thinks Hollywood's Gender Pay Gap Calls for 'Aggressive' Action
Emma Stone, Meryl Streep, Octavia Spencer, and More of Hollywood's Biggest Stars Demand Equal Pay