Catt Sadler Breaks Silence on Her Departure From E! News Over Pay Disparity and Next Steps
She's not suing them… today.
---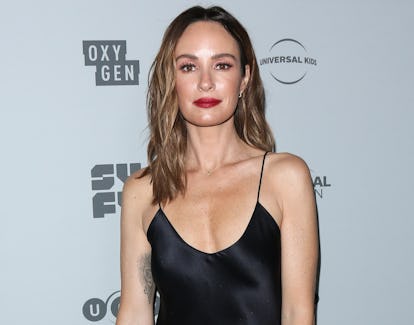 Photo by Paul Archuleta/FilmMagic
Former E! News host Catt Sadler, who left the network when her contract expired after she found out that she made half the salary of male colleague Jason Kennedy and was unable to negotiate a high enough pay increase to sign on again, has expressed her gratitude at the many women in the industry who have spoken up on her behalf (like Debra Messing, who hinted at Sadler's case on the Golden Globes red carpet in an iconic interview with E!*), and suggested that E! may have been breaking the law in not paying her as much as Kennedy.
In an interview with Maria Menounos, Sadler mentioned, "By the way, there is something called… the [equal] pay act… It is unlawful to discriminate, it is sexual discrimination, so you better believe that people are going to say on the record what protects them." (NBC, the parent company of E, has denied that the pay disparity was based on gender.) Sadler said she wasn't suing E "today" but didn't categorically rule out the possibility.
Moreover, she seemed surprised and grateful that her story has become such a big part of the current conversation around unequal treatment in the workplace. In an interview on The Coveteur, Sadler said, "It's awe-inspiring to witness Hollywood heavyweights organize and fight for what's right in such a public way. Females in all industries are challenging the system and joining the movement… Each day I hear from girls around the world, some still students, some just starting in the workplace, their mothers, their sisters, their cousins voicing their disapproval with the way things are and their hope for what is to come. This isn't about one person, or a few—it's about us. It's about holding each other up as sisters, challenging the status quo, and refusing to accept less than what we deserve."
"Know your worth," Sadler posted on her blog after leaving the network. Seems like not only does Sadler know her worth, she's also making it known.
Related: Jennifer Lawrence and Jessica Chastain Support Catt Sadler After E! News Exit Over Pay Gap Dispute