Thandie Newton Wears a Gown Honoring Black Star Wars Characters in Cannes
It's custom Vivienne Westwood based on her own personal collection of figurines.
---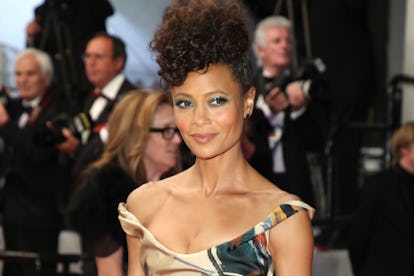 Mike Marsland/Getty Images
Thandie Newton is making history by being the first black woman to play a leading role in a Star Wars film, but that doesn't mean that she's forgetting those who came before her. At Cannes, the Solo: A Star Wars Story star honored the black male characters who have been a part of the universe, including Lando Calrissian, Mace Windu, Saw Gerrera, and Captain Panaka via her outfit. According to Erin Walsh, Newton's stylist, it was the 45-year-old actress's idea to create the custom Vivienne Westwood gown for the red carpet premiere, which Walsh calls "a dress made of dreams, and it's about time!" The stylist also posted photos of a sketch and a close-up of the print, which she says was designed using professional photos of figurines in Newton's personal collection.
"The special gown has been hand-crafted in Westwood's London atelier, digitally printed with images of Thandie's personal [Star Wars] figurine collection [and] layered over the iconic Vivienne Westwood Absence of Roses print," Eco-Age, a sustainable company that helped create the gown, wrote in an Instagram caption.
Newton plays Val, a member of Han Solo's crew, in the movie, which hits theaters on May 25. "I'm the first woman of color to have a prominent role in the Star Wars legacy," she told Radio Times last month. "There have been others with one line and Lupita Nyong'o was a computer-generated character [in The Force Awakens and The Last Jedi], but you didn't get to see the color of her skin. I'm the first… I'm going to have a toy and everything."
Though the more recent Star Wars films focus more on women's stories, including The Last Jedi, which prominently featured Rey's point of view and two other women—General Leia Organa (formerly Princess, played by Carrie Fisher) and Vice Admiral Holdo (played by Laura Dern)—as commanders of their own armies, Newton will be the first black woman playing a black woman on screen and front and center in the franchise's history. However, that could change in the next film, now that Lucasfilm, the production company behind the iconic films, hired the first black female director, Victoria Mahoney, to work alongside J.J. Abrams as a second unit director.
To complete Newton's red-carpet look, the actress stayed on theme with black diamond starburst earrings, otherworldly blue eyeshadow, and a perfectly badass curly mohawk. See the full look, below.