Lupita Nyong'o and Her Sparkly Dress Slayed at the Premiere of Star Wars: The Last Jedi
The internet was very taken by her red carpet look.
---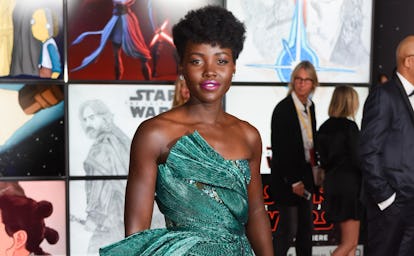 Photo by Presley Ann/Patrick McMullan via Getty Images
A long time ago, in a very chic galaxy…
Saturday, December 9 was the red carpet world premiere of the eighth chapter of the Star Wars saga: The Last Jedi. And while stars like Laura Dern and Kelly Marie Tran looked great, it was Lupita Nyong'o who won the night in a sparkly green slit dress by the buzzy up-and-coming designer Halpern that the entire internet loves. Ironically, the fashionable stunner isn't seen, only heard, in the franchise. She voices pint-size sage Maz Kanata in The Last Jedi as she did in 2015's The Force Awakens. Maybe that's why she was intent on making sure that once we saw her, we noticed her. Well, mission accomplished. This look, which is from Halpern's spring 2018 collection, is stunning.
"she's GOD HERSELF #TheLastJedi," one fan posted on Twitter. Agreed.
Others on Twitter pointed out that she looks especially great in green and has worn the shade on the red carpet, to great success, quite a few times. ("can you believe lupita invented every single shade of green")
Sparkles and sequins seem to have been the look of the night, as both Nyong'o and Star Wars star Daisy Ridley, who plays Force prodigy Rey, wore glittery gowns.
She gave a shout-out to her glam team, and her family, on Instagram, crediting everyone for her look: "Back to that red carpet life for Star Wars: The Last Jedi premiere. Dress: @halpernstudio Stylist: @micaelaerlanger Jewels: @tiffanyandco Hair: @vernonfrancois Make-up: @dilokritbarose ?: @jimmychoo Life: Anyang' & Dorothy Nyong'o," she wrote. Well done, Anyang' and Dorothy!
Behind her on the carpet you can spot her hot brother Peter, whom she's taken to many events, including the Academy Awards. He's a bit of a celeb in his own right, as a matter of fact.
Nyong'o is having a major winter. The Last Jedi hits theaters this Friday, December 15; she'll be Vogue's cover girl in January, and in February sees the premiere of the hotly anticipated Black Panther, in which she plays Nakia of Wakanda. The well-dressed Oscar winner is a bona fide franchise queen. It's good to be Lupita.
Related: Don't Touch My Hair: Lupita Nyong'o Calls Out Grazia UK for Erasing Her Curls
Go Behind the Scenes of Pirelli's Alice in Wonderland Fantasia with P. Diddy, Naomi Campbell, and RuPaul
P. Diddy and Naomi Campbell as the executioners behind the scenes of the 2018 Pirelli Calendar shoot with Tim Walker.

Alessandro Scotti
Djimon Hounsou as the King of Hearts behind the scenes of the 2018 Pirelli Calendar shoot with Tim Walker.

Alessandro Scotti
The cast of of the 2018 Pirelli Calendar during their shoot with Tim Walker.

Alessandro Scotti
Djimon Hounsou and RuPaul as the King and Queen of Hearts and Duckie Thot as Alice behind the scenes of the 2018 Pirelli Calendar shoot with Tim Walker.

Alessandro Scotti
Duckie Thot as Alice, Slick Woods as the Mad Hatter, and Sasha Lane as the Mad March Hare behind the scenes of the 2018 Pirelli Calendar shoot with Tim Walker.

Alessandro Scotti
Sasha Lane and Lupita Nyong'o as the Mad March Hare and the Dormouse behind the scenes of the 2018 Pirelli Calendar shoot with Tim Walker.

Alessandro Scotti
Adwoa Aboah as Tweedledee behind the scenes of the 2018 Pirelli Calendar shoot with Tim Walker.

Alessandro Scotti
RuPaul as the Queen of Hearts behind the scenes of the 2018 Pirelli Calendar shoot with Tim Walker.

Alessandro Scotti
RuPaul and Djimon Hounsou as the Queen and King of Hearts behind the scenes of the 2018 Pirelli Calendar shoot with Tim Walker.

Alessandro Scotti
Thando Hopa as the Princess of Hearts behind the scenes of the 2018 Pirelli Calendar shoot with Tim Walker.

Alessandro Scotti
Zoe Bedeaux as the Caterpillar behind the scenes of the 2018 Pirelli Calendar shoot with Tim Walker.

Alessandro Scotti
Slick Woods as the Mad Hatter behind the scenes of the 2018 Pirelli Calendar shoot with Tim Walker.

Alessandro Scotti
Backstage The Cal Shoot by Tim Walker

Alessandro Scotti