Don't Touch My Hair: Lupita Nyong'o Calls Out Grazia UK for Erasing Her Curls
Lupita Nyong'o has called out Grazia UK for releasing its cover shot of the actress, only to airbrush her natural hair out of the picture.
---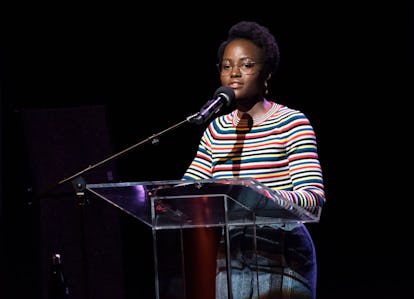 Noam Galai/Getty Images
Lupita Nyong'o has spoken out against the fashion magazine Grazia UK for releasing a cover with Nyong'o only to airbrush her natural hair completely out of the picture. The Oscar winner and Pirelli 2018 calendar star posted her original photographs from the shoot, along with a lengthy caption detailing the disappointment she felt when she discovered that the magazine "edited out and smoothed my hair to fit their notion of what beautiful hair looks like."
In the original photographs, Nyong'o's natural curly hair can be seen clearly, but it is nowhere to be found on the cover. The actress also clarifies in her Instagram post that had she been consulted she would not have agreed to Grazia's editorial decision to airbrush her natural texture out of the cover shot.
A role model for young girls in the film and beauty industry, Nyong'o has pledged to fight systemic inequality and the injustice women and black people face on a daily basis, and as she writes in her Instagram post, she is adamant that "there is still a very long way to go to combat the unconscious prejudice against black women's complexion, hair style and texture."
The Grazia retouching incident is the second time within just a few weeks that a fashion publication has photoshopped the natural hair of one of its cover stars. In October, London's Evening Standard Magazine edited Solange's natural braids out of a cover image. The original photograph—which Solange shared on her Instagram—featured a decadent halo formed by the singer's blonde braids. The cover shot's accompanying interview included a discussion with Solange about the tradition of hair braiding and its significance for the sisterhood of black women.
Solange captured her photo of the original shot with four letters—dmth—which stands for "Don't Touch My Hair," the title of her anthemic song about respecting black people and their hair, from her fourth studio album, A Seat At The Table. Angelica Bastien, the journalist who conducted the Evening Standard interview with Solange subsequently told editors to remove her name from the byline and publicly disowned the piece as a result of the editors' decision to "distort" the story and magazine cover's photograph.
Nyong'o ended the caption of her own Instagram post with the hashtag #dtmh, a nod to Solange's song and position as a woman who will not stand for the unjust treatment of black people, whether they are cover stars or not.
Grazia has since issued a statement addressing the retouching of Nyongo's hair on its Instagram, claiming it is "committed to representing diversity throughout its pages and apologises unreservedly to Lupita Nyong'o." The Instagram post also claims that editors did not ask the photographer to erase Nyong'o's natural hair, nor did they alter it, which suggests the photographer An Le made the change.
Still, if that's the case, who would allow the move to go forward, having seen the un-retouched images, as Nyong'o clearly had? And, to allow such a distortion following the debacle of Solange's Evening Standard cover and her subsequent Instagram post calling out their mistake? Once again, the decision to retouch seems misguided at best. A video of the shoot seems to have been retouched as well.
When magazines make the editorial decision to remove natural black hair from a picture—especially without consulting the photographed subject—whether that be a partial or full erasure, they are sending a message about the standards of beauty they find to be appropriate or artful enough to include on their covers, a standard which too often puts a premium on Eurocentric features while excluding black women and their natural hair. Thanks to the likes of Nyong'o and Solange, that point of view will no longer be tolerated.
Related: Solange's Hairstylist on How the Pop Star Achieved a "Coral Reef" Effect For Her Latest Hair Transformation
Lupita Nyong'o Confesses Her Cinematic Crush