Why Wasn't Zendaya At the 2023 Golden Globes?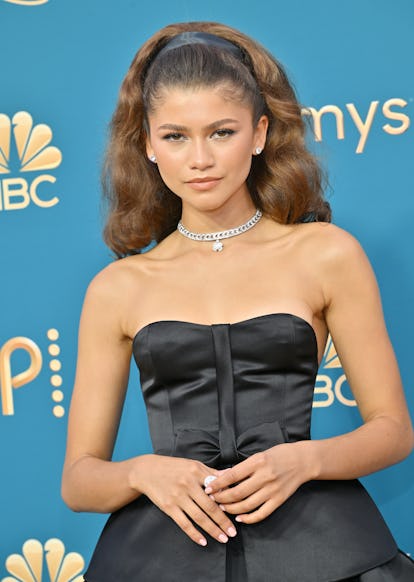 Michael Buckner/Variety via Getty Images
Several major award winners at the 2023 Golden Globes weren't present to accept their trophies live on stage. Cate Blanchett missed out on her Best Actress in a Drama honor, and Amanda Seyfried wasn't there to take home the prize for Best Actress in a Mini-Series (she's working on a mysterious musical, apparently?). The biggest absence, however, might have been Zendaya's, as the actress won the award for Best Actress in a Drama TV Series for her role as Rue in Euphoria, but unfortunately, she was not in attendance at the event on Tuesday night.
Jay Ellis and Glen Powell, who presented the award, were the bearers of bad news. "Zendaya couldn't be with us tonight, so we are going to accept this award on her behalf," Ellis said, with Powell adding, "She's busy, she's working y'all. It's a good thing." Luckily, we did get to hear from Zendaya before the night was over, as the actress took to Instagram to share her gratitude.
"I'm so sorry I wasn't able to be there tonight, but I just wanted to say thank you to @goldenglobes for this incredible honor," she wrote alongside a photo of her on set as Rue. "To my fellow nominees, it is a privilege to be named beside you, I admire you all deeply. Thank you to my Euphoria family, without you, none of this is possible. Lastly, thank you from the bottom of my heart to everyone who has allowed Rue into theirs. I think everyone knows how much she means to me, but the fact that she can mean something to someone else is a gift. I'm honestly at a loss for words as I type this, all I can say is thank you thank you thank you. Goodnight."
But why wasn't Zendaya at the Golden Globes? While she has now won two Emmys for her work on Euphoria, this is the first time she has been recognized by the Hollywood Foreign Press Association, marking a fairly big moment in the actress' career. Powell could have been right when he said she was working, but what is she currently working on? Her upcoming film, Challengers, with Luca Guadagnino filmed last year and reportedly wrapped in June (she had to miss the 2022 Met Gala for that one). There's also Dune: Part 2, but that filmed mostly over the summer and wrapped production in the beginning of December. In fact, Zendaya was last seen in Los Angeles at a For Your Consideration event for Euphoria just last month.
So, could she be working on a secret project? Or, perhaps maybe Euphoria season three? Or maybe, she didn't want to attend the Globes given their past history with racism. Yes, the HFPA has taken action to right their wrongs, but they still have some ways to go. Whatever the reason, Zendaya's presence (and the look she would have undoubtedly pulled out for the event) was very much missed.