Allison Williams Transformed Into a 1950s Fashion Sketch for the 2023 Met Gala
The actress honored Karl Lagerfeld's time at Patou with the help of the house's current creative director.
---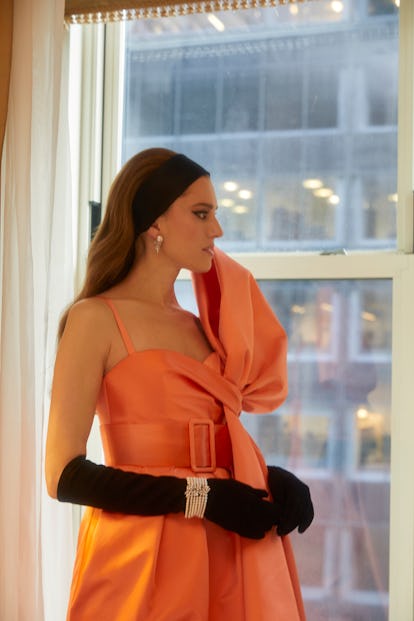 Photo by Shelby Goldstein
Creating a physical representation of a 65-year career is not easy, especially when it comes to work as influential as Karl Lagerfeld's. Nevertheless, the 2023 Met Gala attempted to do just that, filling a red carpet with hundreds of artistic odes to the designer. Unsurprisingly, certain aspects of Lagerfeld's career were heavily represented, with dozens of guests arriving in both modern and archival Chanel and Fendi designs. But when it came to honoring Lagerfeld's first job as a creative director at the French house Patou—that was left up to just Allison Williams.
On Monday night, Williams arrived at the Metropolitan Museum of Art escorted by Patou's current creative director, Guillaume Henry. The actress wore a coral Italian silk satin dress with a wide belt, column skirt, and half-tied bow that crawled up her left shoulder before falling behind her in a train. A graphic cat eye, black gloves, Mikimoto pearls, and a black headband gave the overall ensemble a decidedly vintage feel. If the actress resembled a 1950s fashion sketch come to life, that's because Henry, Williams, and the Patou team succeeded in their endeavor.
Williams's look was inspired by one of Lagerfeld's original sketches from his time at Patou, one that Henry feels "perfectly represented his time" as the creative director, which lasted for just five years, between 1958 and 1963. Henry made the decision to recreate the design for the Met Gala, and Anna Wintour played the role of matchmaker, asking Williams to model the dress at the event. "I was so honored to be asked to represent this part of his career," the actress tells W over the phone. When Henry began working with Williams on the project, he too was pleased with the choice of Williams. "I adored her fresh approach to fashion, and I have to admit, I loved the way she surprised us speaking perfect French during our first Zoom call," he says. "We immediately knew it was the perfect match."
Photo by Shelby Goldstein
Photo by Shelby Goldstein
Photo by Shelby Goldstein
Williams and Henry worked together virtually to bring the design to life, but it wasn't until the weekend before the Met Gala that the actress actually got to try on, and physically experience the garment—and the fabric—for the first time. "There's something gorgeous about the color they chose," she says. "It feels both very appropriate for the time period we are hearkening back to, but also luminous and bright in a way that hopefully will catch the light and be a moment in and of itself." The consensus was to stay true to the dress' inspiration, so hair and makeup remained in the vein of that late '50s time period, thanks to hairstylist Jacob Rozenberg, makeup artist Jenna Kristina, and nail artist Pattie Yankee. "Guillaume and his team pulled some references," Williams says. "They had a very specific idea and clear reference, which was helpful. It's much easier to execute that way."
It all sounds so glamorous: the '50s-esque dress, a designer escort, hair and makeup applied in a cushy hotel suite. But while Williams's night ended in a room filled with A-list stars dining on gourmet cuisine and enjoying a private Lizzo concert, her day began in a much more humble manner. "I spent the morning with my baby, who has a little bit of a cold, so it was a much more mucus-y morning than my typical Met experiences," Williams says with a laugh, clarifying that her son isn't contagious. "It's been a lot of boogie wipes, which was never part of my Met prep in prior years." This year marks Williams's seventh appearance at the Met Gala, though her first since becoming a mother in late 2021. That means, at this point, the actress is a pro when it comes to fashion's biggest night, and she couldn't help but feel a difference in the air this time around.
"The energy leading up to it feels very specific," she says. "I think that's because it's Karl Lagerfeld, so it's very emotional for many people." Williams never knew Lagerfeld personally, but she feels fortunate to be part of the celebration. "Our little project has very much been a tribute to one of his pieces and an aesthetic of his, and we want do that justice."
Speaking of tributes, part of Williams's own legacy, the hit HBO show Girls, is having a bit of a re-watch renaissance at the moment, driven in part by the series' increased popularity on TikTok. Williams is very much aware of the attention the show has been getting lately—and she couldn't be happier about it. "It's a total honor. I can't tell you what a delight it is for all of us that people are re-watching it," she says. "The fact that the show has stood the test of time and that it is still entertaining people—what more could you want from a creative experience?"
Williams herself is planning a rewatch as well. "It would be so much fun to watch it now," she says. "I haven't seen many of the episodes since they aired." Of course, there are some moments that will be more difficult to swallow than others, but she's ready to take them on. "Those scenes that are awkward and harder to watch are always the ones that make me laugh, too." The one she gets sent the most often is, unsurprisingly, Marnie's season two performance of "Stronger." "Someone actually just sent me that clip yesterday because [Jack Harlow] proclaimed himself the second-best white rapper after Eminem, so someone retweeted it with that clip and the caption, 'You're forgetting her.' So funny."
Photo by Shelby Goldstein
Photo by Shelby Goldstein
These days, of course, Williams is more so known for her work as a scream queen, specifically alongside everyone's favorite AI doll, M3GAN. Ever since the film's release last year, M3GAN has become quite the cultural icon—could M3GAN make an appearance on the Met steps one day?
"Honestly, it's not out of the question," Williams says with another laugh. "First of all, she has a habit of showing up places. But second of all, she is tiptoeing into her own image career. It's possible—Anna's a woman of the future and you just don't know what she has up her sleeve." In the end, though, M3GAN did not make an appearance on Monday night. "I think I would pee myself if I looked over and saw her on the carpet." Henry and the Patou team must be grateful such an event didn't come to pass.