Blake Lively Returns to the Red Carpet After Giving Birth to Her Fourth Child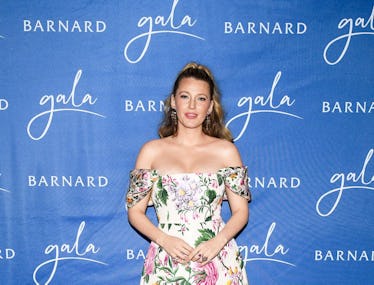 Madison Voelkel/BFA
Blake Lively is back on the red carpet grind after welcoming her fourth child with Ryan Reynolds earlier this year. The actress stepped out for Barnard College's annual gala on Tuesday night, wearing a dress that completely epitomizes springtime.
Lively attended the event in an off-the-shoulder, floral gown from Carolina Herrera's fall 2023 collection. The dress was reminiscent of a '50s design with a classic a-line silhouette and a gorgeous pink, yellow, and purple floral motif. Lively added even more color to the ensemble with the help of pink Manolo Blahnik pumps, Lorraine Schwartz chandelier earrings, and a pink Sergio Hudson spring 2023 trench coat with a bright yellow lining.
While at the event, Lively spoke about when she briefly considered going to college when she first entered acting and couldn't book a job. "Two weeks after that, the producers of Gossip Girl called me like an ex-boyfriend, and they said, 'Listen, will you please do the show?'" She explained that they said she could go to Columbia one day a week, but that wasn't going to cut it for her, especially considering the show's all-encompassing shooting schedule. "Who doesn't want to earn a bachelor's degree in 77 years?"
"So needless to say, I think I have to accept that tonight is the closest I'm going to get, so I'm just going to pretend that this is me graduating tonight," she concluded. "So thank you! I made it."
The outing comes after Lively presumedly gave birth to her fourth child in January or early February. We don't know the exact timeline, as Lively and Reynolds never made an official announcement, but after being very pregnant, the actress shared photos from Super Bowl Sunday with her bump suddenly gone. Since then, the couple has been fairly quiet, though they did enjoy a family vacation earlier this month, and shared photos of the trip on Instagram. Now, it seems Lively is ready to hit the red carpet circuit again, a good sign that she could make an appearance at the Met Gala on Monday night.