Cate Blanchett is Dressing More and More Like Lydia Tár Every Day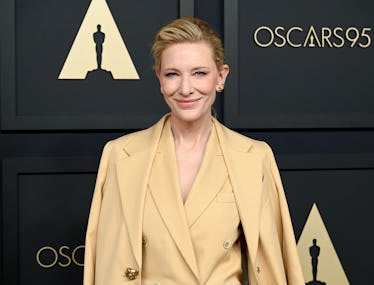 Gilbert Flores/Variety/Getty Images
Cate Blanchett is in full Oscars mode. She's hit almost all the requisite luncheons, festivals, and late night shows ahead of the awards next month in order to up her chances of taking home that golden trophy for her performance in TÁR when the big night finally comes around. Of course, every event calls for a new outfit, and the actress—along with her stylist, Elizabeth Stewart—has delivered, increasingly adopting her character's aesthetic for recent red carpets, and Blanchett's latest looks deserve at least a short study.
It's not rare for an actress to embrace a film's theme when promoting it (see Zoë Kravitz dressing like Selina Kyle for The Batman promo tour last year). The funny thing about Blanchett, though, is that she didn't really start reaching for the tailored blazers and crisp button downs of Tár until awards season. But since that kicked off, the actress and the character have been morphing together to become one—at least style-wise.
Over the weekend, Blanchett attended the Film Independent Spirit Awards nominees brunch wearing an outfit that looks to have been taken straight off Todd Field's film set. If you told us Blanchett called up TÁR's costume designer, Bina Daigeler, and asked her to borrow a look for this event, we would believe you. The actress wore a pair of high-waisted, cream wide-leg trousers with a white button down on top. An oversize black blazer, with its sleeves bunched up to reveal the cuffs of the white shirt completed the look and gave Blanchett that too-cool-to-care-about-clothes-yet-always-looks-extremely-chic edge that Daigeler delivered in the film. It also helps that the look is courtesy of The Row, a favorite of Daigeler's and an inspiration for many of Tár's outfits.
But Blanchett wasn't done cosplaying as Lydia, and on Monday, it was time for the Oscars nominees luncheon in another look seemingly inspired by the character. The actress arrived to the event in a three-piece ensemble from Lanvin—a butter yellow suit featuring a double-breasted jacket and wide-leg pants. A matching coat with a singular, decorative gold button then sat perched upon the actress' shoulders. If it wasn't for the smile on Blanchett's face, we would have thought she was still in character.
And while Blanchett and Tár's style definitely overlap, the actress appreciates a bit more whimsy than the faux-conductor. She likes some sparkle, embellishment, a bit of chiffon—things Tár would like never touch. Take the spring/summer 2023 Loewe look Blanchett wore for her appearance on Jimmy Kimmel Live on Monday. It was a reminder of the differences between Blanchett and Tár's aesthetic. Lydia doesn't even wear sweatpants to bed, but Cate wore them on a late night show—a pair of acid washed blue joggers tucked into a pair of white stiletto boots and topped with a yellow chiffon pussy bow mini dress. Very un-Tár.
So, what does this mean for the Oscars red carpet? Will Blanchett embrace her inner Lydia and go for structured tailoring, or will she let Cate rule and show up in something more whimsical? Our hope is the former. No one pulls off a red carpet suit quite like Blanchett, and what better way to celebrate the character that made her an Oscar front runner?