Chiara Ferragni Frees the Nipple in a Dior Sort of Way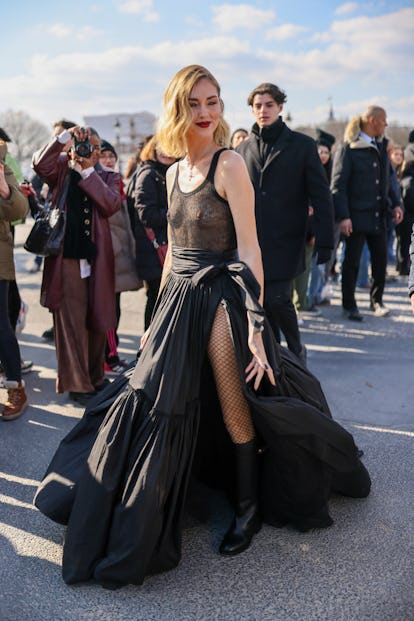 Pierre Suu/Getty Images Entertainment/Getty Images
Just a few days after showing us how Italians might opt to do the "underwear as pants" trend at Gucci, Chiara Ferragni is in Paris giving the "free the nipple" statement the French touch. The perpetual front row superstar and mega-influencer showed up at creative director Maria Grazia Chiuri's latest runway presentation for Dior in an ultra-sheer netted tank top courtesy of the brand that made a definitive statement.
In a sort of update from Sharon Stone's famous 1998 Oscars outfit, Ferragni paired the easy-breezy top with a much more formal full-length skirt. Its high slit put her fishnet tights and knee-high boots on full display. Naturally, she finished it off by carrying a mini version of Dior's classic Lady bag. The clothes may be French, but the woman is Italian, and she's never been particularly shy about embracing her body.
Criticism? Ferragni actually teamed up with Chiuri just two weeks ago to inform various haters that she doesn't particularly care.
Chiuri and Ferragni are particularly tight (the designer was responsible for her wedding dress, after all), and the pair collaborated with Dior's atelier on a suite of four costume the influencer wore for Italy's famous Sanremo Music Festival. There was the Shameless Dress, the Hate Dress, the Cage, and the Manifesto Dress; each intended to break a different gender stereotype.
The Shameless Dress, whose name references the biblical tale of Eve, used couture techniques to recreate Ferragni's own nude body as a beaded dress. "The illusion of nudity aims to remind women of the right they have to show and handle themselves without feeling judged or guilty," read the explaination. "This is the body of a woman, the body of Chiara Ferragni, who would like to give voice to all the women who are told that their body is shameful and that it's nothing more than an object of desire that incites sin. This is the body of all women. Let him who is without sin cast the first stone!"
The Manifesto Dress bore an Italian slogan that translates to "Think yourself free," while the Cage Dress (which, naturally, featured a skirt fashioned to resemble a cage) was meant to symbolize "the hope to break the conventions imposed by the patriarchy." Finally, there was the Hate Dress, which emblazoned the words of online trolls onto white fabric. "With this peplos dress, we bring on the stage of the Ariston theater some of the criticisms addressed at Chiara regarding her appearance, her body and, above all, her freedom of feeling a woman other than a mother. The sentences of disdain embroidered with black pearls are the true insults that everyday haters direct at the photos she posts on Instagram."
Which is to say: Ferragni doesn't care about any criticism you have about her latest Dior outfit—or any other, for that matter.