According to Hailey Bieber, the Cargo Trend Isn't Going Anywhere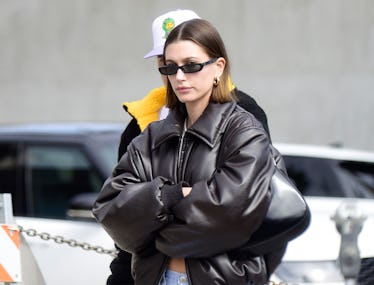 MEGA/GC Images
Hailey Bieber has always been a large supporter of cargo pants, so it should really come as no surprise that she's now dabbling in other iterations of the pocketed trend. On Wednesday, the model took to her trusted closet mirror and photographed her latest look, which featured none other than a cargo skirt.
It's unclear exactly why Bieber donned the outfit, which just so happens to be an almost complete runway look from the Miu Miu spring 2023 show. Bieber wore the brownish-orange skirt from the runway, featuring large bulbous pockets, and paired it with the oversized tan blazer also seen on the original model. She did make some changes to the presentation, however, opting for a black belt over a brown one and wearing a white crop top as opposed to a layered tan and white one from the original look. Bieber then finished off the ensemble with her favorite footwear of the moment, loafers—a white Miu Miu pair worn with white socks—and the brand's Wander bag in black.
This look comes just a day after the model wore cargo pants while out in LA with singer Justine Skye, who actually also got in on the trend. Bieber, specifically has been into the look for awhile now, initially showing off a pair last April in that same tried-and-true closet mirror. It seems that since then, her collection of cargo pieces has grown, which we can take as a sign that the trend will continue into the spring. Other supporters of the cargo look include Kim Kardashian and Dua Lipa, who caught on to the trend earlier and wore a cargo skirt for the first time last summer.
As for Bieber, her latest outfit (spiced up by the cargo skirt) fits very much into the aesthetic she's been embracing ever since she cut her hair short last month. Following the chop, the model announced she was embracing a Margot Tenenbaum look, which is an aesthetic infused with a bit of prep school girl, Upper East Side old money glam, and '70s sex. Since then, she's been wearing a lot of blazers and trench coats, loafers, and sheer, tight-fitting pieces, all things the adopted playwright would likely embrace as well.