And Just Like That... Episode 8 Fashion Recap: Who's That Girl?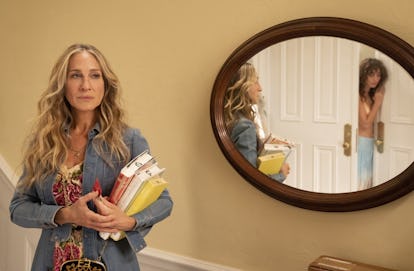 Photo by Craig Blankenhorn / HBO Max
Carrie's got company at her brownstone, and she isn't exactly thrilled. And Just Like That... episode 8 introduces her downstairs neighbor Lisette (Katerina Tannenbaum), a young jewelry designer who's far too cool for Carrie's comfort. Miranda has much bigger problems on her hands: In what will no doubt prove to be a disastrous decision, she's gone off the rails and made up her mind to divorce Steve in pursuit of Che. She's fallen head over heels, and apparently, the feeling is mutual—not that we have any hope things will go as Miranda plans. (We suggest the "Justice for Steve" crowd stop watching from here on out.) On the bright side, we've finally solved the mystery of Carrie's rubber kitchen gloves ensemble, which was widely perceived as unhinged when paparazzi spotted it on Sarah Jessica Parker last fall. Take it in, in all its glory—along with the rest of the gang's latest notable looks, below, and catch up on last week's here.