Lady Gaga Nabbed Her Oscars Dress Right Off Gigi Hadid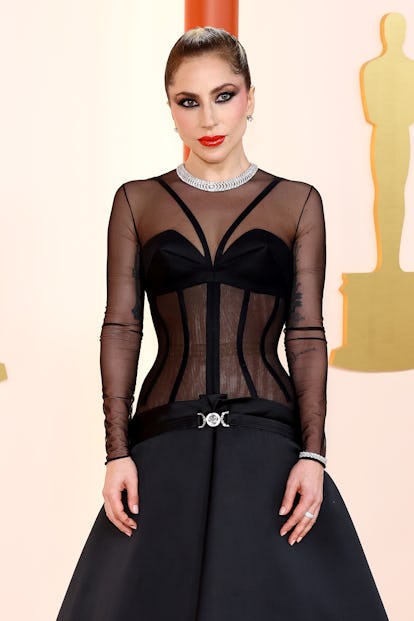 Arturo Holmes/Getty Images Entertainment/Getty Images
Lady Gaga's 2023 Oscar journey has been an interesting one. There was a bit of back and forth on whether or not she would attend, but when the champagne carpet was rolled out, there she was, fully glammed up and ready to perform her Oscar-nominated son, "Hold My Hand." But this is Stefani Germanotta we're talking about, and after all that will-she-won't-she drama, she couldn't show up in just anything. So, the singer pulled a look straight off the runway, and straight off Gigi Hadid.
For the ceremony, Gaga wore a Versace gown modeled by Hadid on the brand's fall/winter 2023 presentation, which showed in Los Angeles just three days ago. Hadid helped close the show in the dress, a drop-waist gown featuring a semi-transparent tulle bustier top with pointed bust, and a wool-silk box-pleat A-line skirt decorated with the Medusa belt from originally seen in Versace's 1995 collection. The dress is quite the showstopper—and even features a completely sheer, low-cut backside—so Gaga smartly kept the styling fairly simple, wearing Tiffany & Co. jewels in the form of a platinum diamond necklace, some studs, a bracelet, and a ring. She then pulled her hair back in a french braided bun and went for high glam with the makeup—dark-lined eyes and a bold red lip.
Again, Gaga's appearance on the carpet was slightly surprising. It was announced a few days ago that the singer wouldn't be attending, as she is busy filming the upcoming Joker: Folie à Deux. The news was disappointing, but understandable, and just when we came to terms with it, Gaga shocked us again on Sunday when Variety revealed the singer would, in fact, perform the Top Gun: Maverick theme at the awards. And considering she gave us this Versace red carpet showcase, it seems like the last minute switch-up was most definitely worth it.
Her dress choice also provided another moment in Gaga's longtime, under-the-radar, relationship with Hadid. Yes, the singer and model have actually been friends for some time, and we'd like to think Gaga called up Hadid for tips on how to show off the dress on the red carpet.