Louis Vuitton Updates "French Girl Style" for Right Now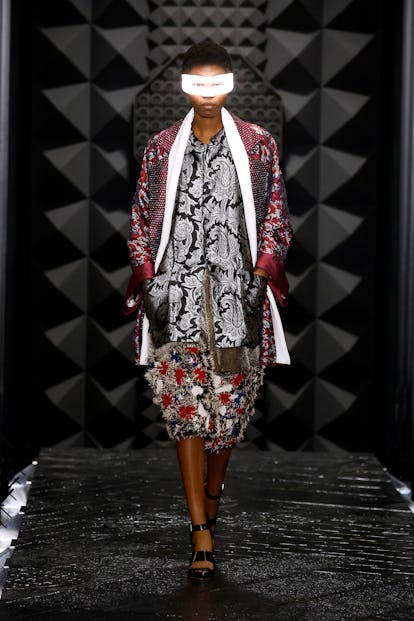 Photo by Estrop/Getty Images
It's been a while since we've experienced total French-girl style obsession. But this season, the French muse seems to be the talk of the town—at least, with all the major labels at Paris Fashion Week. Dior, Saint Laurent, and now, Louis Vuitton have all touched on the subject in recent days.
Taking place in the vaulted salons of the Musée d'Orsay, Louis Vuitton's fall 2023 show opened with the question, "What is French style?" To set the scene, the lights flickered and the sounds of airplanes and trains in the midst of travel melded with the surroundings. A softer side of French dressing was instantly revealed: chunky, pleated blazers were belted and layered over dynamic, textural dresses; pinstripes were blown up to massive proportions and positioned on balloon-like trousers and jackets; sculptural dresses came layered over chunky tops; and long, tailored coats and red leather pants meshed to create a new vision of creative director Nicolas Ghesquière's twisted take on all things French. Up close, the details showed a strong subversion of the classic conservatism that has deep roots in French style—but even so, compared to Ghesquière's last few collections for Louis Vuitton, this one more deeply echoed the idea of quiet luxury over elemental maximalism.
Ghesquière seemed to focus on the idea of being in a state of transition. The chunky dresses looked like knits from afar, but were actually amazing feats of embroidery. Wool bustier dresses leaned slightly off-kilter in one direction, in motion. "French allure is a trompe l'oeil," the show notes stated. "The French touch never fails to captivate. [Louis Vuitton] is a vessel sailing through time, guided by the winds of savoir-faire, technique, discovery, and artistic ideals."
For all the deeply technical fabrications and embellishment, there was still a distinct sense of je ne sais quoi. It was easy enough to unpack in the styling: the visual effects of short, bomber-like jackets paired over long coats; white button-down shirts with heavily embellished, knee-length shorts; and coats that looked like a mash-up of a tuxedo and kimono with glittering lapels that shined in the dimly lit museum. The long scarves, pinned with eclectic brooches and paired with little sweater tank tops and leggings, alluded to certain heroes of bohemian French style—the everyday "It" girl who exclusively shops at antique stores and mixes in pieces passed down from her grandmother.
Each season, Louis Vuitton's shows are the pinnacle of celebrity culture at fashion month, and this time was no exception. Pharrell Williams (who was recently named the house's creative director of menswear); the Haim ladies; and the label's newest ambassador, Zendaya, all attended—and the actress, model, and Squid Game star Jung Ho-yeon closed the show.
French fashion codes also prevailed through mixed prints and wonderfully haphazard pairings (namely, paisley and floral). The collection yielded so many wearable wardrobe staples—including glowing, light therapy sunglasses, moto gloves, and two-tone boots for those who crave the wilder side of Ghesquière's accessories.