MEN'S FASHION WEEK SPRING 2018
The Ten Buzziest Moments Of Men's Fashion Week Milan, From Scions to Protests
The ten moments you may have missed in Milan.
---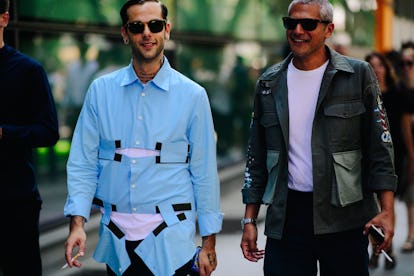 Photo by Adam Katz Sinding for W Magazine.
Didn't make it to Milan this season? Don't fret. As the season comes to a close, we have rounded up the most talked about moments of the week, including the must-know new Scandi model with long blonde locks, Canadian singer Shawn Mendess' turn on the Emporio Armani runway, and just how exactly motorcycles and bumper cars ended up on a runway. Catch up on the recent Dolce & Gabbana news, including what scions walked in their runway show, and what musicians are disagreeing with the designers' politics, while also getting to the bottom of some of the fashion sets' most burning questions. Are Italian men still the best dressed men in the world? What movie set also served as a backdrop for the Tod's menswear presentation? Read on for the answers to all of that, and more.
The New Boy in Town
Who is the new face with the long blond hair spotted first at J.W. Anderson and then at Fendi? None other than Oliver Sonne, a native of Denmark, who (according to his Instagram) seems to love big fluffy dogs and Christian Louboutin sneakers. One to watch for sure.
Graphic Comic Book Art Makes a Big Fashion Statement
Miuccia Prada invited graphic artists James Jean and Ollie Schrauwen to illustrate the entire Prada men's show set. The walls, the floor, even the bags, were covered in their black, white, grey and blue drawings.
Marni's Blow-Up Raft Show Seats
Francesco Risso showed his second menswear collection for Marni in an industrial space where a dark tunnel opened up into a bright open room filled with color-blocked benches stacked on top of what looked like plastic bow-up rafts. The whimsical addition of the slightly odd seating arrangements made for some eye-catching Instagrams.
Shawn Mendes, the Model
Canadian singer Shawn Mendes surprised show-goers at Emporio Armani by closing the runway show. He walked down the runway, showing off the brand's new smartwatch on his wrist, as his hit single "Mercy" filled the air. He wore a black fitted bomber jacket with red embroidery, navel exposed.
Italian Men Are Still the Best Dressed Men in Europe (And Probably the World)
Each season after London fashion week, men's editors and buyers flock to Pitti Uomo and then hop from Florence to Milan for the men's fashion shows. And each season, Italian men – despite the heat – are still the best dressed of the shows' peacocks. Decked from head to toe in chic, dapper, tailored linen looks, with straw hats and pocket square, these men never fail to impress us with their sartorial excellence.
Philipp Plein Tried To Out-Do Philipp Plein
When does Philipp Plein not put on an outrageous show? Whether it is a row of women dressed as Statues of Liberty and Times Square's Naked Cowboy, beefcake male models at a carnival, or Paris Hilton making an appearance on the runway, it is always a spectacle. This season's menswear show was no different, with season's "Grease"-inspired runway show offering bumper cars, fireballs, and yes, flying motorcycles.
Remember How Good Tilda Swinton Was In I Am Love?
Well, apparently Tod's menswear creative director Andrea Incontri does too. He staged his Spring 2018 collection for the house at the charming Villa Necchi Campiglio, the '30s modernist dream home in the center of Milan that also served as the set of the 2009 movie. His pulled together yet laid back looks seemed right at home on the grounds of the modernist masterpiece.
Fendi's Transparent Separates
Leave it to Fendi to cause a big stir. When they aren't having models walk across the Trevi Fountain, they are dressing their male models in sheer madras suits and jackets.
Scion Takeover
Because what is fashion week (and especially, a Dolce & Gabbana show) without the sons and daughters of Italian and Hollywood royalty? Spotted on the catwalk were Sistine and Sophia Stallone, daughters of Sylvester; Chase Hill, brother of model-of-the-moment Taylor; Princesses Melusine Ruspoli and Maria-Olympia of Greece and Denmark; Cordell Broadus, Snoop Dog's son, and the list goes on.
It Wouldn't Be Fashion Week Without a Little Drama
First, up-and-coming R&B singer Raury striped off his Dolce look to reveal a hand written message across his body, including "Protest D&G." His motive most likely was in response to how the duo tends to wade into political controversy especially involving Melania Trump and her wardrobe. Then, not too long after, Miley Cyrus and the designers ended up in an Instagram war, again over politics, although Cyrus did start her post in a congratulatory tone for her brother, Braison, who had just walked in the show.
Related: 6 Rising Male Models from Famous Families Share Their Biggest Pet Peeves
10 New Male Models to Watch, Who Just Walked the Runway for the First Time
Photo courtesy No Logo models.
Photo courtesy Elite Milan.
Photo courtesy Elite Milano.
Photo courtesy Premium models.
Photo courtesy Uno models.
Photo courtesy Rebel models.
Photo courtesy 3mm models.
Photo courtesy Boom models.
Photo courtesy Unsigned group.
Photo courtesy Success models.