How is Naomi Campbell Making a Convention in Cannes Look Like the World's Best Party?
The supermodel has singlehandedly turned Cannes Lions into a party.
---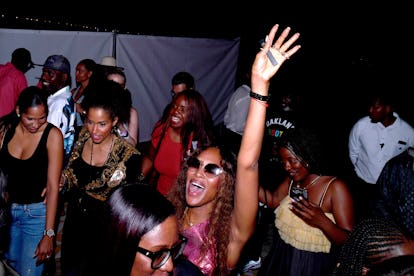 Dave J. Hogan/Getty Images
Most celebrities flew into Cannes, France, last month just in time for the 2019 edition of the annual Cannes Film Festival. Naomi Campbell is not most people. Even though she's long been a fixture of the film festival—particularly on the red carpet—Campbell made her appearance in Cannes just this week, in honor of this year's Cannes Lions, the "international festival of creativity"—which is to say, communications and advertising.
If that doesn't sound as if it could hold a candle to the glamour of the film festival, well, it can't—or at least it couldn't until the 49-year-old supermodel touched down on Tuesday, after a weekend of partying with Mariah Carey, Kate Moss, and Pamela Anderson, and delivering a talk on activism in Stockholm. Naturally, she posted on Instagram to announce her arrival—wearing an Alexander McQueen gown paired with sneakers.
Unfortunately, the beginning of the trip wasn't entirely glamorous; she also spent part of Monday in the audience of a very dry looking panel discussion, which she nonetheless shared a few excerpts of on Instagram Stories.
Though she didn't hide that they weren't up to par with her usual content.
With that duty out of the way, Campbell then changed into a pink minidress and headed to an event that she made no attempt to hide was much more her style. As for the rest of the crowd, well, they appear to have had just about as much enthusiasm for taking in Nas and Swizz Beats on Spotify Beach—next to Naomi Campbell, no less—as they did for the panel discussion.
If that bothered Campbell, she most certainly didn't show it. (Though it's also possible that she simply couldn't see much of the crowd, given that she was the only one wearing sunglasses.)
To be fair to the rest, there was no champagne in buckets stamped "Moët." And yet, trusty Juul in hand, Naomi soldiered on.
Related: Why Naomi Campbell's Walk Is Legendary
Revisit Naomi Campbell's Most Iconic Moments on the Runway Through the Years
Naomi Campbell walks the runway of the Yves Saint Laurent fall/winter 1987 couture show in Paris, 1987. Photo courtesy of Getty Images.

Getty Images
Naomi Campbell walks the runway for Perry Ellis in 1989. Photo courtesy of Getty Images.

Getty Images
Naomi Campbell walks the runway of the Thierry Mugler fall/winter 1989 show during Paris Fashion Week in 1989. Photo courtesy of Getty Images.

Getty Images
Naomi Campbell walks the runway of the Thierry Mugler spring/summer 1992 show in 1991. Photo courtesy of Getty Images.

Getty Images
Naomi Campbell walks the runway of the Fendi spring/summer 1992 show by Karl Lagerfeld in Milan, 1991. Photo courtesy of Getty Images.

Getty Images
Naomi Campbell walks the runway of the Versace fall/winter 1991 show in Los Angeles, 1991. Photo courtesy of Getty Images.

Getty Images
Naomi Campbell walks the runway of the Alaïa fall/winter 1991 show in Paris in 1991. Photo courtesy of Getty Images.

Getty Images
Naomi Campbell walks the runway of Thierry Mugler's spring/summer 1992 show in 1991. Photo courtesy of Getty Images.

Getty Images
Naomi Campbell walks the runway of the Versace spring/summer 1992 show in 1991. Photo courtesy of Getty Images.

Getty Images
Naomi Campbell walks the runway of the Valentino fall/winter 1992 show during Paris Fashion Week in 1992. Photo courtesy of Getty Images.

Getty Images
Naomi Campbell makes fashion history by falling on the runway of the Vivienne Westwood fall/winter 1993 show in 1993. Photo courtesy of Getty Images.

Getty Images
Naomi Campbell walks the runway of the Chanel spring/summer 1994 show—the theme of which was another controversial choice by Karl Lagerfeld: "rap"—in 1993. Photo courtesy of Getty Images.

Getty Images
Naomi Campbell walks the runway of the Guy Laroche spring/summer 1994 couture show during Paris Fashion Week in 1994. Photo courtesy of Getty Images.

Getty Images
Naomi Campbell walks the runway of the Vivienne Westwood fall/winter 1994 show during Paris Fashion Week in 1994. Photo courtesy of Getty Images.

Getty Images
Naomi Campbell walks the runway of the Prada spring/summer 1995 show during Milan Fashion Week in 1994. Photo courtesy of Getty Images.

Getty Images
Naomi Campbell walks the runway of the Rifat Ozbek spring/summer 1995 show during Paris Fashion Week in 1994. Photo courtesy of Getty Images.

Getty Images
Naomi Campbell walks the runway of the Chanel fall/winter 1995 couture show Haute during Paris Fashion Week in 1995. Photo courtesy of Getty Images.

Getty Images
Naomi Campbell walks the runway of the Versace fall/winter 1996 show by Gianni Versace in 1996. Photo courtesy of Getty Images.

Getty Images
Naomi Campbell walks the runway of the Givenchy fall/winter 1997 couture show during Paris Fashion Week in 1997. Photo courtesy of Getty Images.

Getty Images
Naomi Campbell walks the runway of the Givenchy fall/winter 1997 couture show during Paris Fashion Week in 1997. Photo courtesy of Getty Images.

Getty Images
Naomi Campbell walks the runway of the Oscar de la Renta fall/winter 1999 show in New York City, 1999. Photo courtesy of Getty Images.

Getty Images
Naomi Campbell walks the runway of the Versace fall/winter 1999 couture show during Paris Fashion Week in 1999. Photo courtesy of Getty Images.

Getty Images
Naomi Campbell walks the runway of the Jean Paul Gaultier spring/summer 2002 couture show in 2001. Photo courtesy of Getty Images.

Getty Images
Naomi Campbell walks the runway of the Esteban Cortázar spring/summer 2005 couture show during New York Fashion Week in 2004. Photo courtesy of Getty Images.

Getty Images
Naomi Campbell walks the runway of the Louis Vuitton spring/summer 2008 show during Paris Fashion Week in 2007. Photo courtesy of Getty Images.

Getty Images
Naomi Campbell and Kate Moss reuniting on the runway of the Louis Vuitton fall/winter 2018 men's show with Kim Jones, in honor of his final collection for the house, during Paris Fashion Week in 2018. Photo courtesy of Getty Images.

Getty Images
Naomi Campbell walks the runway of her crush (and fellow ageless icon) Jennifer Lopez's fall/winter 2005 show during New York Fashion Week in 2005. Photo courtesy of Getty Images.

Getty Images
Naomi Campbell walks the runway of the Givenchy spring/summer 2016 men's show during Paris Fashion Week Men's in 2015. Photo courtesy of Getty Images.

Getty Images