Harris Reed Makes His Dramatic (and Much-Hyped) Debut at Nina Ricci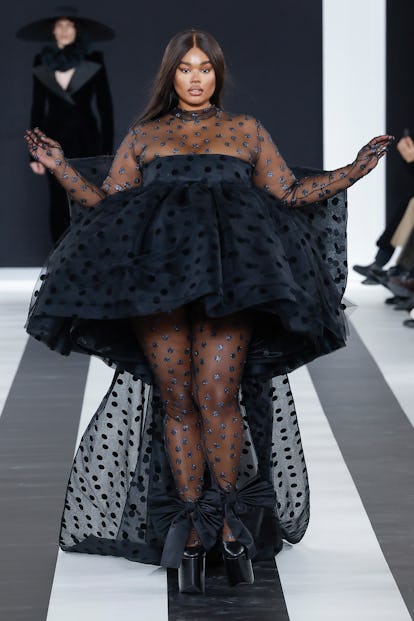 Nina Ricci fall 2023. Courtesy of Nina Ricci
When Harris Reed, the 26-year-old British-American designer known for his audacious demi-couture designs, was named creative director of Nina Ricci last year, the announcement was greeted like the explosive pop of a shaken bottle of Champagne. Reed's gender-fluid, flamboyant designs would surely inject the storied French house with the fizz and fun it has desperately needed. The house has been a bit rudderless after what feels like a perpetual revolving door of creative directors who have failed to make anything stick since Olivier Theyskens and Peter Copping's respective tenures ended nearly 10 years ago.
Enter Reed, who engaged in some strategic teasing of his fall 2023 lineup in December, when he dressed Adele in an off-shoulder gown with polka dot sleeves for one of her Las Vegas shows. And last month, no less low-profile a pair than Harry Styles and Florence Pugh wore Nina Ricci. He, a languid velvet tuxedo with a giant rosette choker, to the Brit Awards; she, a sunny orange tulle bustier top and mermaid skirt to the BAFTAs. Both looks appeared on Reed's debut runway in Paris Friday, styled by Styles's stylist (say that three times fast) Harry Lambert.
The collection hit all the boxes Reed was hired to check: Precious Lee opened the show in a polka dot tulle baby doll with an exaggerated bow at the back. The models carried the mantle of inclusivity—size, age, gender, ethnic background—throughout the lineup, while wearing all manner of dramatic silhouettes derived from Ricci's '80s and '90s couture archive. That era at the house was designed under the helm of Gérard Pipart, known for his exuberant, feminine designs including ostrich feathers, dramatic gold pleated column gowns, and elaborate bustier tops.
"As a queer kid growing up in Arizona, French fashion was my escape. Nina Ricci felt like my idealization of Paris," said Reed in the show notes. "I wanted to nod to the maison's extraordinary history and at the same time, reinterpret those feminine codes for a modern consumer in a poetic, humorous, and fluid way. I like to dress individuals who want to have fun in clothes that have meaning and purpose."
The purpose of these clothes was to outfit the modern intersection of fashion and entertainment, their collision with identity, the celebration of individualism and self-expression. And, of course, the ever-present urgency to get the shot. There were bows galore, ranging from big to huge on pussy-bow blouses, a giant taffeta crop top paired with high-waisted jeans worn by noughties throwback Jessica Stam. A turquoise polka-dot bodysuit was draped into an enormous bow at the back and layered over a black polka-dot tulle catsuit.
Silhouettes were exaggerated to delightfully cartoonish proportions—a retro cape in orange with bright blue faux fur; a bustier top and mermaid skirt made out of bleached denim, a graphic black-and-white striped faux-fur coat; more sheer polka dots on a top with colorful, abstract hardware embellishment on the tits worn with a massive hoopskirt. Many of the looks were finished with towering platforms—a Reed signature—and ultra-wide brim hats. Nothing qualified as casual, though the tailoring came closest.
For those who haven't attended one of Reed's London Fashion Week shows—there have only been four since he graduated from Central Saint Martins a mere three years ago — the glowing reviews and photos elicit a serious case of you-had-to-be there. Sam Smith, Queen frontman Adam Lambert, and Florence Pugh have all performed live. Reed's highly connected circle of friends and short but impressive résumé (anointed as a friend-of-the-house by Alessandro Michele at Gucci, followed by an internship in his atelier) have certainly bolstered his meteoric rise. The Nina Ricci show didn't quite have that mythical quality. But as the models emerged, backlit in cinematic drama from a kind of giant black-and-white picture frame of a set, they embodied the contemporary truth that Reed seems to have a firm grip on: If you can make it look great in a photo, you're more than halfway there.