Rihanna and A$AP Rocky Brought the 2023 Met Gala to a Close in Style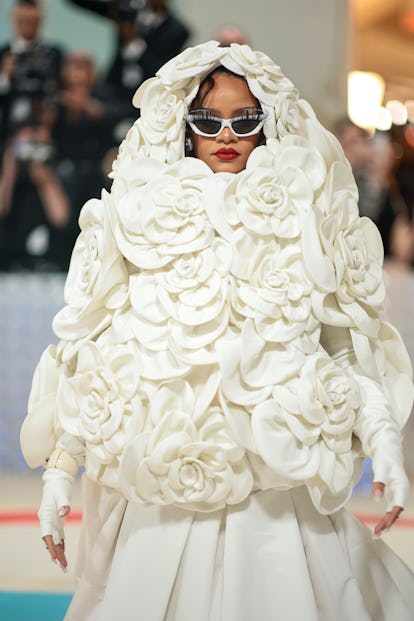 Dimitrios Kambouris/Getty Images Entertainment/Getty Images
A Met Gala red carpet does not end until Rihanna makes an appearance, so when the last celebrities made their way up the steps, and the carpet cleared up for the first time in three hours, everyone remained in place. The photographers kept their cameras ready, and the journalists had their mics on standby, waiting for Rihanna to make her fashionably late appearance to close out the red carpet. It took a bit of time, but in the end it was worth it (to absolutely no one's surprise), because when Rihanna finally arrived at the 2023 Met Gala, she reminded us all why she's always worth the wait.
Over an hour after the rest of the attendees walked, Rihanna finally made her entrance, escorted by her boyfriend, A$AP Rocky. The singer initially exited her hotel wrapped in a fur stole, a vintage piece from Lagerfeld's fall/winter 1987 collection for his eponymous brand. It doesn't really matter, though, because it seems like Rihanna changed in the car on the way to the Met (perhaps that's why she took so long), and when she emerged, she was the living embodiment of a Chanel carmellia.
The singer wore an all-white Valentino look featuring a voluminous skirt with a long train. On top, she was completely covered in large white flowers, encircling her bodice and head. White, fingerless-gloved hands poked out from the amorphous shape, while her custom, camellia-topped Gianvito Rossi heels emerged from under her skirt as she walked. White sunglasses with large faux lashed protruding off the frames then finished off the ensemble.
Since Rihanna is currently pregnant with her second child, many were excited to see how she would incorporate her growing belly into her ensemble, as she has become known to do. At first, the singer's midsection was completely covered by the flowers, so pregnant or not, you wouldn't have been able to tell. Eventually, though, Rihanna unbuttoned the floral piece and folded it over her shoulders into a shawl, revealing a sleeveless dress underneath, adorned with a singular white flower on the chest, and of course her pregnant stomach on full display.
Rocky, meanwhile, wore a complete recreation of a look worn by Karl Lagerfeld at his spring/summer 2005 show, featuring a plaid kilt, black suit jacket, and skinny black tie. Rocky's take on the look, created by Gucci, featured a skirt that started off short in the front, and finished off with a train that trailed behind him. He wore the piece over a pair of embellished jeans, and added some extra belts, steel-toed boots, and Boucheron jewels, as well as one classic Lagerfeld fingerless glove.
Rihanna has been teasing her appearance at the Met Gala over the past few weeks, stepping out in various vintage looks from Karl Lagerfeld for her many nights out. Most recently, Rihanna went out for dinner in New York wearing pieces from Chanel's fall/winter 1994 collection. It was assumed, then, that Rihanna would wear a vintage piece from one of Lagerfeld's collections to the Gala, as many other attendees did. Always one to surprise us, though, the singer instead opted for a custom piece so she could pay homage to Lagerfeld in a different way, not only with her dress, but with her extreme tardiness, a trait she shares with the late designer.