Rihanna Treated Us to a Met Gala-Worthy Look Two Days Early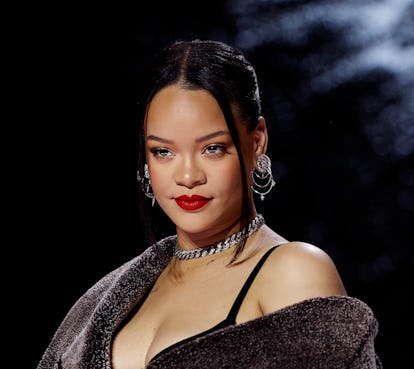 Photo by Mike Lawrie/Getty Images
At this point, if Rihanna doesn't attend the Met Gala, we may have a problem. After taking off last year, likely because she was on the verge of giving birth, it was unclear if the singer would return to the Met Steps for the 2023 event. But now, she has dropped so many hints over the last few weeks, she has really gotten our hopes up, and many are taking her latest look—which could honestly be a Met Gala outfit in itself—as confirmation of her attendance.
On Saturday night, Rihanna was spotted in New York City, which itself sounded alarm bells. The singer stepped out in quite the furry ensemble, inspired by (and including pieces from) Chanel's fall 1994 collection. The standout piece was a black and white, faux fur cropped jacket from the collection. Rihanna doesn't have the matching hats from the same show, so she commissioned milliner Benny Andallo to create a faux fur and ostrich feather topper to go with the look. More Chanel then came in the form of white glasses from the fall 1994 runway, featuring to interlocking Cs in front of the eyes. Rihanna wore the over-the-top accessories with a white knitted dress from Coperni fall/winter 2023, and finished off the ensemble with Amina Muaddi crystal-embellished heels and diamonds from Jacob & Co. The singer showed off the look on Instagram with the caption "not even Monday."
Now, if this isn't a sign that Rihanna will be at the Met Gala tonight, we don't know what is. In fact, the singer has been teasing us for the past few weeks, starting last month when she stepped out in Paris in a Karl-designed Fendi coat. If we had to guess, we would say Rihanna picked up all these vintage Karl pieces while doing research for the Met, which means if she does in fact show up tonight, we're in for a treat. Though, of course, that was always a given.