Rihanna's Latest Look Will Have You Rethinking All of Your Leather Jackets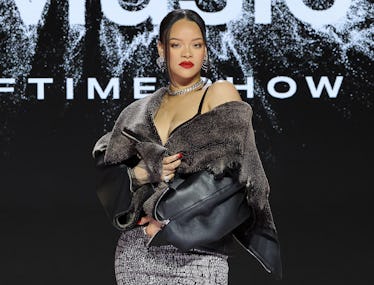 Mike Coppola/Getty Images
We've been experiencing a bit of a Rihanna drought lately. No, I'm not talking about the lack of new music over the past six years, but the fact that we haven't seen the singer out and about too much lately. Yes, there was her appearance at the Golden Globes last month, but otherwise, she's been too busy preparing for the Super Bowl half time show to bless us with street style moments. On Thursday, though, Rihanna attended a press conference ahead of her big performance, and of course, she looked as stylish as ever.
The singer appeared in Phoenix for an interview with Apple Music regarding Sunday's big event. For the chat, she wore an eclectic look from the Alaïa spring 2023 collection that has us rethinking all of our leather jackets. Rihanna stepped onto the stage in black leather jacket lined with shearling, unzipped so that it hung off her left shoulder. The piece seemed to be a bit deconstructed, with a flap of fur trailing behind the singer as well. The singer then paired the piece with a black and gray crocodile-patterned skirt with two large slits up the sides and ditched the leggings originally worn on the runway for a pair of custom Gianvito Rossi lace-up snakeskin heels, with ties that reached her knees.
During the chat, Rihanna spoke a little about her preparation for the Super Bowl, including all the minor tweaks she has made to the performance plan. "There are probably about 39 versions of the set list right now," she said. "Every little change counts. Whether I want a guitar cut out, something muted, something added." Assumedly, Rihanna is giving the same amount of attention to her wardrobe for the performance. She revealed the whole thing will be 13 minutes long, which leaves time for at least one outfit change. She has already tapped Area, YSL, and Versace to dress her for promotional material, and now Alaïa has joined the ranks, so it's anyone's guess who she will wear when she steps onto the stage on Sunday.