Salma Hayek Lent Her Daughter A Dress From 1997 For The Oscars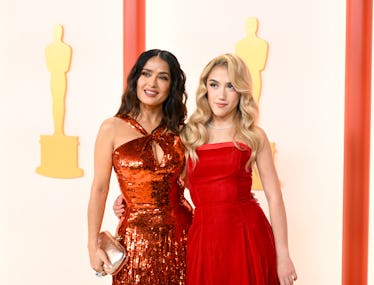 Gilbert Flores/Variety/Getty Images
Vintage and archival looks are becoming the go-to choice for red carpets these days, but sometimes, sourcing a good pre-worn dress can be difficult. So, it helps when you can simply sneak into your mom's closet and grab a gorgeous, 26-year-old gown. That's exactly what Salma Hayek's daughter, Valentina Paloma Pinault, did for the 2023 Oscars on Sunday night, when she attended the awards as her mom's date.
The mother-daughter pair kept to a fiery color scheme, wearing orange and red to the red carpet, which they walked hand-in-hand. Hayek stepped out in an orange sequin-covered dress featuring a fringe-filled skirt and a keyhole cutout on the chest from her go-to Gucci. Pinault, meanwhile, opted for a slightly more understated look, wearing a red, strapless Isaac Mizrahi gown that Hayek originally debuted in 1997 at the Fire & Ice Ball, 10 years before the 15-year-old was even born.
Pinault is hardly the only scion to nab clothes from their famous parents. Leni Klum wore Heidi's 1998 dress to her prom last year, and Angelina Jolie is always loaning her old pieces to her daughters for events. Up until now, we haven't seen Apple Martin wear any of Gwyneth Paltrow's pre-loved pieces, but we know the actress has quite the archive, and now that Martin has made her fashion debut, don't be surprised if you see her in a red Gucci suit some time soon.