Sophie Turner Shares Her Most Prized Fashion Possession
The actress and Louis Vuitton brand ambassador discusses her personal style evolution and the one thing she seeks in every look.
---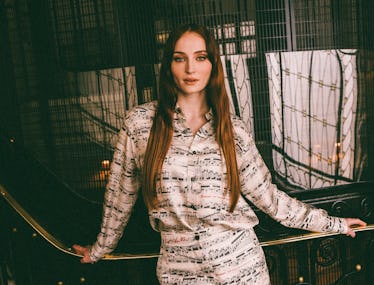 Courtesy of Louis Vuitton
On Monday, March 6, chants could be heard from the front row of the Louis Vuitton fall 2023 show: "We love Louis Vuitton! We love Louis Vuitton!" This wasn't a rogue flash mob, nor was it a performance piece running alongside the French house's runway presentation. It was the actresses Sophie Turner and Chloë Grace Moretz, who were engaged in some very on-brand singing alongside their seatmates and fellow house ambassadors, Jurnee Smollett, Emma Stone, Zendaya, and more.
Just moments before the show began, Turner cozied up next to Smollett, slinging her arm over the Lovecraft Country actress's legs to take a picture. "The LV family is incredibly tight and we all get so excited to see each other season after season and event after event," Turner told W over e-mail after the show. "It makes attending these events all the easier and more enjoyable. It's like one big support system."
The Game of Thrones star successfully brought a sense of familiarity and fun to Paris—which are notoriously the chicest, Fashion-with-a-capital-F shows of fashion month—not only by visibly enjoying her moment in the front row, but also by opting for a unique look: a silken jumpsuit covered in music notes.
"I chose my outfit for the show based on two things," Turner explained. "The first was the comfort element—how rare is it to be able to attend a fashion show in pajamas!—and the second being that music and fashion are two of the most interesting forms of self-expression. Paired together, you can count me in."
Each season, the actress looks forward to the musical elements of Vuitton shows—"it always brings something out of anyone who hears it," she said. (That might explain why she joined in on the tunes with her own vocals.) And for fall 2023, she turned that mindset into a chic getup. But according to Turner, having such a refined fashion sense wasn't always the case. Her biggest style regret? "Anything I wore in high school."
Courtesy of Louis Vuitton
Courtesy of Louis Vuitton
"My style has evolved, I think, from being someone who was sucked in by micro trends to somebody who wears clothes based on how they make me feel," she added, describing her current personal style as "strong, constructed, and sleek. I have typical silhouettes I like to wear, colors I know that work for me, but comfort is always my thing." Still, when asked what the most prized possession in her closet is, Turner—who will spend the next seven months filming the TV show Joan—recalls the showstopper she wore on one of the biggest days of her life: "It's 100 percent my custom LV wedding dress."