Everything We Know About Kate Moss's Wellness Brand, Cosmoss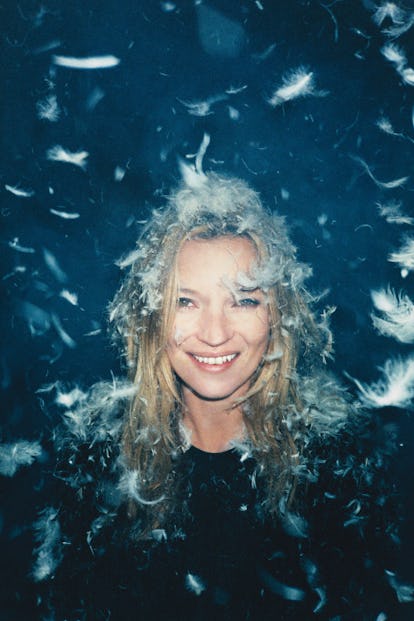 Kate Moss photographed by Ryan McGinley for 'W' magazine, June 2007.
Earlier this month, English tabloids began claiming that Kate Moss is launching a wellness brand that will hawk products such as $25 boxes of tea. Well, they were off by a couple of dollars, but otherwise correct: On August 23, the 48-year-old supermodel confirmed that the rumors were true by posting a video of herself going for a swim that she captioned "COSMOSS is self-care created for life's modern journeys." (And as if the news wasn't major enough, Moss invited her followers to "follow [her] to Cosmoss" while wearing her birthday suit.)
Moss has been slowly but surely venturing outside of modeling in recent years: She started representing talent such as Rita Ora and her daughter Lila at her eponymous agency in 2016 and was recently appointed the U.K. creative director of Diet Coke. At this stage in her life, she's ready to "share her journey of self acceptance and freely be herself"—and for her, the way to do that is to helm what just might be the next Goop. "Modeling is a means to an end. It is paying for all the things that I want to do," she told British Vogue, adding that she's funding Cosmoss by herself. Here, all the answers to your questions about what she's launching on September 1.
What's in Cosmoss's range of products?
Step one of the three-part Cosmoss routine is starting off the day with a blended herbal tea that is said to stimulate the immune system and help with minimizing stress. Next comes a gentle face cleanser and face cream that contain traces of three wild Icelandic plants (including one described as a plant-based alternative to retinol). It wouldn't be a wellness line without a CBD product, hence the cannabidiol pro-collagen oil drops that Moss has titled Golden Nectar. It's made for everyday use, just like the Dusk Tea that completes the routine. Moss insists that they're all of the highest quality: "I'm not putting my name on [just] anything. Because I can't lie!"
What's the price range?
The Dawn and Dusk teas are by far the most affordable options. A box of 20 satchels costs roughly £20 (roughly $23)—which actually isn't too bad compared to the box of 15 that Gwyneth Paltrow sells for $32 at Goop. From there, things get pricey: To enjoy the benefits of Moss's "Sacred Mist"—which purports to "bring emotional balance and provide a sense of inner peace"—will cost you £120. Hey, at least the £52 face cream doesn't cost nearly as much as the £950 one that Moss swears by.
Is Kate really equipped to dole out wellness advice?
You may be a bit hesitant about putting your health into the hands of someone whose most famous quote to date remains "nothing tastes as good as skinny feels," but Moss has made some major lifestyle changes in the 13 years since she proclaimed the phrase her mantra (which she has since said that she regrets). "I've really noticed an improvement since I've been more 'on it' with [healthy] food—like eating salads and all that stuff—I never used to really eat salads," she told the Guardian in 2017. "And now I'm like, juicing!" By that point, the model had stopped going to bed wearing makeup and even joined a gym. The next year, she revealed that for the first time in her life, she had taken up a skincare routine. Not that she didn't before her current health kick, but we have to say, whatever she's doing is working: Moss looks and seems to feel incredible, so we don't really have qualms about taking her advice.
What else is there to Cosmoss?
The website also features a section titled "Kate's Corner," which seems to be a selection of Moss's inspirations and snapshots of her everyday life. So far, she's cosigned the Nick Drake song "Pink Moon," shared a photo of the sky that inspired the color palette of her Dawn and Dusk Teas, and highlighted the work of the Swiss artist, healer, and researcher Emma Kunz.
What's next for Cosmoss?
All that's clear is that Moss is just getting started. "I feel like I am in flow," she told Vogue. "The basketball player Michael Jordan spoke about [this] in his documentary, about how when he's on the court he's in flow. He's just in it. In the zone. Present. And that's what I feel like. I am in flow." Subscribe to the newsletter to stay up to date on her next moves.
This article was originally published on