Léa Seydoux Shares Her Personal Post-Cannes Pictures From Louis Vuitton's Cruise Show at the Fondation Maeght
She needed some fashionable R&R in the South of France after a "very intense" festival.
---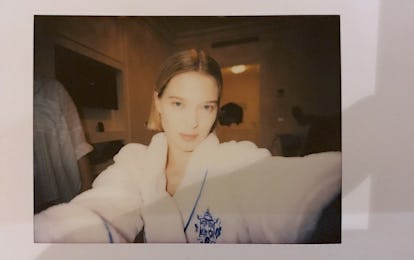 The Cannes Film Festival can seem like a never-ending affair, but perhaps never more so than for its jury members, who have to see every single movie entered into the main slate competition. "I'm still recovering," noted Léa Seydoux, one of this year's jurors, on the Tuesday morning after Memorial Day Weekend. The festival officially ended on May 19, but Seydoux, who lives in Paris, had extended her stay in the South of France for good reason: Louis Vuitton's Cruise show, held at the Fondation Maeght on Monday evening.
"It was amazing. I really loved it," Seydoux said. "It was actually the first Cruise show that I've attended because the two previous ones I was filming and working. I'm so happy that I was able to come, because I love the Fondation Maeght. For me, it's one of the most beautiful places in France. I thought that the clothes and the space with the sculpture was absolutely amazing. It was so contemporary."
While for many the show was their first excursion to the private modern art museum, which is located on the Colline des Gardettes, a hill overlooking Saint-Paul de Vence, it was a repeat visit for Seydoux, meaning she knew what pieces in particular to look out for. "I love the Calder sculptures, the mobiles, and the works by Joan Miró," she said. "I'm kind of obsessed and fascinated with this period, and all the artists in Saint-Paul-de-Vence. It's a fantasy for me."
Of course, the collection, which was presented among the statues, added a new element to Seydoux's connection to the location. "With the clothes, it was almost as if the clothes were a piece of art among other pieces of art," she said. "I loved the oversize jackets, and the jewelry and the bags. I really loved the bags."
Beyond the Fondation, Seydoux's other go-to cultural destination in the area is a bit more eccentric. "There's a very famous hotel that I love, called La Colombe d'Or, where artists used to come to the restaurant and as a way of exchanging money, they would give paintings," she said. "So you have amazing paintings in the dining room, so you have Braque, Picasso, I mean, it's a museum. You can still have dinner in this room and be among those beautiful paintings. And it's still a hotel."
However, her trip for the fashion show at Saint-Paul de Vence had been a whirlwind; no time for a pop-in this time around. Whirlwind, in fact, seemed to sum up her entire Cannes experience over the past few weeks. "It was very intense and very emotional, as well," she said of being a jury member. "You watch all those films and even though they are all very different, they are all talking about the world of today, so you question yourself and your relationship to the world. It's a real reflection."
It also meant spending plenty of quality time with fellow jurors like Cate Blanchett, Kristen Stewart, and Ava Duvernay. "They were great," she said. "I mean, they are so talented, and I was very impressed, I have to say."
But for all the movies she saw as part of her duties, there was still one that got away: "I wanted to watch Star Wars and I didn't even have the time."
Related: Spike Lee on What's Funny and What's Definitely Not About BlacKkKlansman, His Cannes Grand Prize–Winning Film