10 Scary (and Relevant) Halloween Costumes Inspired by Social Media Trends
From the yodeling Mason Ramsey to vapes, these costume ideas are guaranteed to go viral.
---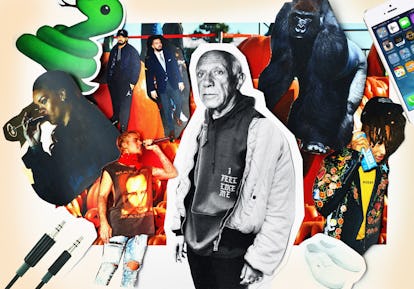 There's maybe nothing scarier than the influence of a viral meme. So for Halloween this year, you can channel the Internet's most harebrained content with a Halloween costume inspired by one of the many social media trends that took over your feed. From the Twitter account that documents every instance Rihanna brought a wine glass out in public to Tide Pods, which sent parents and brands in a frenzy over the intended use of the laundry detergent (no, you are not supposed to eat them), these ideas are guaranteed to help you go viral this Halloween. And if you don't know what we're talking about, then maybe it's time to brush up on your memes.
1. Rihanna Drinking Wine
What you'll need: Fenty x Puma furry slippers, Fenty x Puma sweats and a sweatshirt, an extra-large wine glass, and (at least) one bottle of red wine. This look also works as a couple's costume.
Inspiration:
2. Mason Ramsey aka Yodel Boy
What you'll need: A cowboy hat, a big belt buckle, and some cowboy boots. You are also legally required to yodel if you dress up like Mason Ramsey, since the kid got famous for yodeling in a Walmart. Those are just the rules.
Inspiration:
3. Juul
What you'll need: An actual vape pen and then call yourself a "teen," or wear all black and dress up like a USB drive and call yourself a vape. Your choice. It should be noted that the Juul and its respective pod can also work as a couples costume.
Inspiration:
What you'll need: There is an episode of the horror anthology series Black Mirror inspired by Star Trek, and when the full fourth season dropped on Netflix, a scene starring BAFTA award winner Michaela Coel became a widespread meme. You'll need a beehive hairdo, a red leather jacket, and a devilish smirk to complete the look. Place an AirPod in one ear for full effect.
Inspiration:
5. Jaden Smith on the Phone With Boxed Water
What you'll need: A blue Just Water box, high ponytail, sunglasses, overalls and/or skirt, mask.
Inspiration:
6. A Man Who Can Do Both
What you'll need: Suit jacket, button-down shirt, and tie on top, OVO sweatpants on the bottom.
Inspiration:
7. Really Start Dressin'
What you'll need: When Twitters users proclaimed they couldn't "wait until it gets cold" so that they "can really start dressin'," a meme was born. Basically, all you need for this costume is a lot of layers and anything else you would wear for your finest fall look.
Inspiration:
8. Contouring Gone Wrong
What you'll need: Multiple shades of contouring sticks that don't match your skin tone.
Inspiration:
9. Absolute Unit
What you'll need: Any article of clothing that makes you look absolutely larger than life.
Inspiration:
10. Tide Pods
What you'll need: When everyone joked about eating concentrated pods of laundry detergent, parents and brands lost their minds, but the jokes remained etched onto social media platforms forever. You could tie dye a shirt with blue and orange, and maybe add a sign that says "do not eat me" to your look for the finishing touch.
Inspiration:
Related: 15 Classic Halloween Costume Ideas, with a High Fashion Twist