Great News: There Has Been Talk About a 30 Rock Reboot, According to Jane Krakowski
Nothing in Hollywood ever dies.
---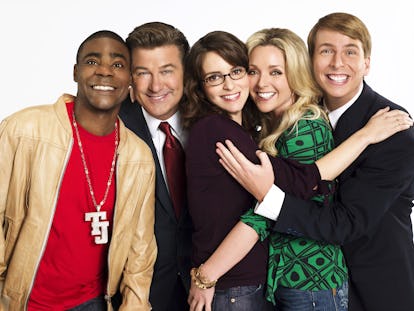 Mary Ellen Mathew/NBCU Photo Bank
In Hollywood, death is never certain—not for shows and not for characters. There is always a reboot around the corner, and 30 Rock is the latest in line. While it's not yet official, star Jane Krakowski has shared that talks about bringing back the beloved NBC show have already happened.
"Right now, [reboots are] the trend," she told The Hollywood Reporter before taking in her co-star Tina Fey's latest project, a Broadway musical version of Mean Girls that is actually truly fetch. "And I would be thrilled if the trend continued over into 30 Rock."
Perhaps not surprisingly, given the level of fandom that still exists for the series, which was recently re-homed from Netflix to Hulu, the 30 Rock cast is aware of how much hunger there is for a remake. "There's definitely been talk and conversations," Krakowski said. "I know it's something the fans would love and we would love."
One of the reasons she's so down to do it is how well everyone got along while making the series, which lasted from 2006 to 2013. "[A revival] would be a dream come true," Krakowski said. "We all had the greatest time on that show…. We all say over and over again that working on that show was probably the best experience we're ever going to have in our careers, as far as creativity goes. We're still so proud of the writing and the great characters. It was such a success, and all of those things were amazing."
Back in 2014, just one year after the show went off air with a happily ever ending, Fey addressed rumors that 30 Rock was plotting a reunion. "We didn't actually murder anyone," Fey told Entertainment Weekly, "so they could come back."
Fey also addressed the picture-perfect finale, defending her decision to present it as such. "One of the things we learned from that was that it's okay to give your characters an opportunity to actually say goodbye to each other in that body of that episode," she said. "You don't have to worry if that's cheesy or whatever." Liz Lemon would definitely not be worried—especially over anything regarding cheese.
Related: Your Prayers Have Been Answered: 30 Rock Is on Hulu