Victoria's Secret Supermodel Adriana Lima Is Reevaluating Her Career: "I Will Not Take Off My Clothes Anymore for an Empty Cause"
What does this mean for the supermodel's upcoming career moves?
---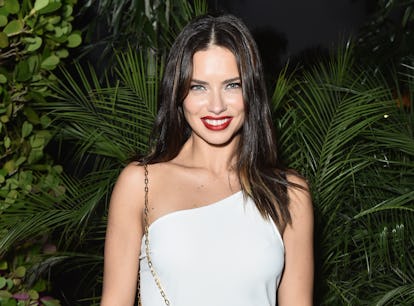 Photo by Jared Siskin/Getty Images for Prada
The Brazilian supermodel and longtime Victoria's Secret angel Adriana Lima is reevaluating her standards for accepting (and declining) certain jobs. She shared her feelings in a lengthy Instagram post on Saturday.
The picture posted is a message (presumably written by Lima) about how society forces women, including and especially models, to conform to a certain standard. "I am tired of the impositions," she writes, "we…can't [continue] living in a world with such superficial values, it's not fair."
In the caption, she went further into her thought process, sharing how when she was offered a gig in a sexy video shoot to be shared on social media, she considered taking the job, and might have in years past. But after a friend recently expressed dissatisfaction with her own body, she thought more about what a healthy relationship with one's body and one's body image is: "Something had changed in me… that's not physically and mentally healthy, so I decided to make that change….. I will not take of my clothes anymore for a empty cause…..," she wrote. You can read the full messages here:
Reading between the lines a bit, one gets the sense that maybe Lima is about to make major changes to the brands she works with. The "sexy video" sounds a lot like the Love advent calendar, and as far as taking her clothes off, does that mean she's getting out of the Victoria's Secret game? As Marie Claire noted, "Lima has also unfollowed most of the Victoria's Secret Angels and Ed Razek, senior creative at Victoria's Secret, hinting that she may be parting ways with the brand." Then again, maybe she doesn't think VS is meaningless, or maybe she'd just prefer to wear a t-shirt from now on.
When Alessandra Ambrosio announced that this year's VSFS in Shanghai would be her last, Lima said that she wouldn't be retiring for another two years, after her 20th trip down the VSFS catwalk. "It's nature. I'm working out, I'm being healthy, so let's see how the body is going to turn out. But I enjoy it. So let's say 20," she said at the time. Post-Alessandra, Lima is basically the last of her generation of angels left in the coterie. Does this new Instagram message mean she's revised that opinion, or is this a continuation of her plan to be healthy and enjoy herself?
Hopefully Lima, and all top models, will continue taking jobs they find empowering and part of a healthy lifestyle. As she concluded, "?✨ #Embraceyouself #natureisbeautiful #naturalissexy #LOVEYOU ?✨"
Related: How Adriana Lima, Bella Hadid, and Other Top Models Train For the Victoria's Secret Fashion Show
Adriana Lima Takes the Best Post-Workout Selfies