AIM Is Finally Dying, But the Screen Name Lives on in BadGalRiRi and ChampagnePapi
Rihanna and Drake are just some of the celebrities refusing to follow social media conventions for the famous.
---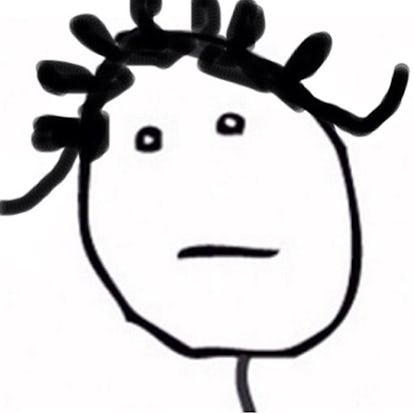 Courtesy of @badgalriri
On Friday, the internet learned the unhappy news that after 20 years, AOL—as it announced in a Tumblr post, of all things—would be shutting down AOL Instant Messenger, aka AIM. Though it's been years and years since society has moved on to Gchat (which also died earlier this year) and iMessage en masse, the move undeniably marks the end of an era—one during which you'd immediately get home from school and sign on to see if your crush was online, spend hours crafting your profile to include as many inside jokes as possible, and think much harder about the most clever away message possible than you did on your homework.
Before getting to all that, though, there was the fundamental matter of creating your screen name. Given that the cardinal rule of the internet, as parents and teachers warned time after time, was to never reveal any personal information, like your last name, crafting an "sn," as my tween self would have called it, could lead to some real inspired invention—and, upon recollection these days, real embarrassment. (A few relatively tame examples: I was first thestephernoodle, my sister Liz was breathoflizard13, and one of my best friends was jelliefan, a reference to her shipping Jimmy and Ellie from Degrassi.)
Even Degrassi stardom aside, Drake would also appreciate the latter: He's one of the handful of celebrities that are keeping the legacy of the screen name alive, rather than going the standard first-and-last-name route. On Instagram, he's famously known to his nearly 40 million followers as @champagnepapi, a moniker that's led to numerous forum discussions and Urban Dictionary entries, and which we can probably assume was part of what made Drake think he had such a connection with @badgalriri, aka Rihanna's platform for posting photos of herself as a stick figure and proving that every day is 4/20.
10 Reasons to Follow Drake's Dad on Instagram
He takes adorable photos with Drake on a semi-regular basis.
His album covers will knock you off your chair.
His style is far more advanced than dad-core. Just look at that tank top!
He's never seen a bucket hat he didn't like.
He's got a female following IRL.
And watch out Drake, he's coming to steal your fan girls.
He owns original Drake merch, like this elementary school shirt from when Drake played Marius in Les Miserables.
He's mastered the under-chin selfie.
Always getting the best angle on his OVO bling.
Cheers to you, the real Champagne Papi, and all of your luxurious linen.
Indeed, it's often the celebrities who opt for the screen name route who also seem to have the most authentic accounts; while her empire pristinely maintains the handle @marthastewart, Martha Stewart has taken things into her own hands with @marthastewart48, which provides charmingly blurry, zoomed-in compositions of subjects varying from Kanye West to her farm animals. (And while her account is not nearly so amateurish, it's worth noting that Taylor Swift has also opted for the add-your-favorite-number solution, going by @taylorswift13 on Twitter.)
Of course, using a name that's completely unrecognizable yet manages to amass thousands of followers is something of a power move, too, and especially so if the accounts are verified: Alessandro Michele has been so popular at the helm of Gucci, he's gotten away with keeping his Instagram handle @lallo25, and Scott Disick has somehow amassed 20 million followers with the spam account-worthy handle @letthelordbewithyou. The actress Troian Bellisario even has a typo in her Instagram handle, @sleepinthegardn, though that hasn't stopped her 10.5 million followers from finding her. Same goes for the seemingly intentionally off-putting handle @space_witch666 that the now verified Frances Bean Cobain crafted, which has gotten her 705,000 followers nonetheless.
There are also the actors who at this point have found so much success, they don't seem to exactly care. Megan Fox's Instagram may have the usual selfies and red carpet shots, but all are posted under the name @the_native_tiger; Liv Tyler's account is similar, though playfully named @misslivalittle. Sienna Miller didn't even care to join Instagram until this summer, when she chose the aptly apathetic handle @siennathing—and a photo of a sphinx as her avatar, in a throwback to the icon days. (Though Leslie Jones definitely wins when it comes to charming apathy, with the Twitter handle @lesdoggg and bio "Im am a stand up comedian.")
Those who grew up just after AIM's heyday, then, haven't completely missed out on the screen name's glory days; indeed, they've simply moved them over to Snapchat, where Kylie Jenner goes as @kylizzlemynizzl, Justin Bieber as @rickthesizzler, and Ariana Grande as @moonlightbae. As Snapchat increasingly fades from use, too, though, only those like Natalia Dyer, the Stranger Things star, remain as our beacon of hope for the next generation of sn's: Even though she's as old as AIM herself—and therefore not yet of legal drinking age—the actress's Instagram handle is @nattyiceofficial, an homage to another bygone relic of our youth, Natural Light.
Related: Sliding Into Gloria Vanderbilt's DMs: The 93-Year-Old Heiress Opens Up About Anderson Cooper, Selfies, and the Thrill of "Likes"
See W's most popular videos: