Why You Should Take a Solo Retreat This Summer, Just Like Kim Kardashian and Gwyneth Paltrow
Need to decompress? Do it alone.
---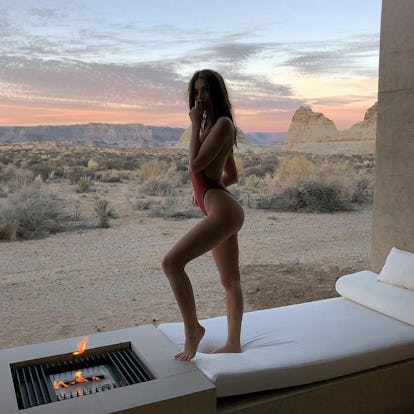 @emrata
When it comes to all things health and wellness, a day trip to the spa filled with facials and massages will satisfy the need for an immediate moment of self-care. But these days, wellness has become more than just luxurious treatments and procedures, it's about allowing yourself to take the time to reconnect your mind, body and soul back to nature. Tucked away into the remote canyons of Utah is Amangiri, a heath and wellness destination where A-listers like Kim Kardashian, Gwyneth Paltrow, and Rosie Huntington-Whiteley head for total serenity and relaxation. While you've undoubtedly seen the Utah retreat all over Instagram, now, with more than 30 world-renowned wellness sanctuaries around the globe, it is easier than ever for you to decompress like a star.
"We create a retreat within an unexpected location," said Roland Fasel, chief operating officer of Aman, adding that an"intimate, intuitive, and discreet" environment and "dedication to space, intimacy, and impeccable service" are the vital keys to creating the perfect retreat atmosphere. But it's more than wildly scenic backdrops and lavish spa services; Fasel emphasizes the importance of not only embracing the experience while on location, but learning how to maintain these lifestyle practices after you leave. "The goal is not only to achieve a transformational experience on the property, but to equip guests with the tools to incorporate what they have learned with us into their everyday lives," he said. This is the philosophy behind the highly acclaimed Kokoro retreat, where guests are treated to a variety of curated massages, facials, body treatments, and fitness classes, as well as basic Aman practices where for "guests to learn the powerful practice of meditation, a tool they can use to find inner balance and peace once they return to the chaos of their daily lives."
While for most, a typical trip to a day spa chalks up to an indulgent hour of self-care, Fasel wants to reinforce that the spa is more than just a temporary escape. As such, Aman has created an opportunity to "strengthen the connection with yourself, your mind, your body and your spirit in nature."
"A holistic approach to the world implies that all things in life are connected to one another, interacting according to a natural order," he added. "A state of equilibrium is achieved by living a life that is balanced and in harmony with creation, and by respecting the four elements of life and destruction—earth, wind, fire, and water."
In going at it alone, the ultimate end goal is, according to Fasel, "about change and seeking to empower guests with the guidance and confidence needed to adopt an all-encompassing holistic lifestyle."
"All experiences have been designed to encourage a process of release, allowing participants to leave behind negative holding patterns and embrace a strong newness of spirit, while taking what they have learned to give them fresh intentions and the knowledge to adopt a more meaningful and reflective way of living," he said. And what better time to take that on than the summer?
The Best Facials in New York City
"Deep cleansing facials are extremely helpful for my acne. This all-natural one is my favorite because it keeps me completely breakout-free for two weeks." – Katie Becker, Beauty Editor
Try this treatment: Biologique Recherche Purifying Anti-Acne Facial, $190
Locations: 171 E 65th St., New York, NY; 66 East 55th St., New York, NY; 60 Chelsea Piers, New York, NY
Phone: 212.988.7816
Hours: vary by location
"Given that facials are part of my job (sorry, haters), I tend to be rather unfaithful in this arena. But if I had to pick one place to recharge my complexion, it would be Dangene, with her trusty team of exfoliators, spot sizzlers and skin brighteners. If you don't have time for a vacation, fake it by spending a morning with Dangene." – Jane Larkworthy, Beauty Director
Initial consultation and treatment: $1,500 (consultation alone is $250)
Location: 66 East 55th St., 6th Floor, New York, NY
Phone: 212.249.8172
Hours: Monday through Friday, 7 a.m. to 6 p.m.
"After an hour and a half of being infused with chi energy and enduring extractions, my skin has never felt so refreshed, and I have never felt so relaxed." – Sarah Leon, Web Editor
Try this treatment: Wow Signature Triple Peel Energy Lift Facial with with Body Wellness, $410
Locations: 12 East 16th St., New York, NY; 105 West 77th St., New York, NY
Phone: 212.989.8833 (16th St.) and 212.877.2883 (77th St.)
Hours: vary by location
"I rarely get facials, but when I do I choose the excellent microdermabrasion facial at The Peninsula." – Karla Martinez de Salas, Fashion Market and Accessories Director
Try this treatment: Microdermabrasion Facial, starting at $275
Location: 700 5th Ave, New York, NY
Phone: 212.903.3910
Hours: 9 a.m. to 9 p.m. daily
"Though I try to take care of my skin, my arsenal of products is still no match for my blackhead-prone skin. But with deep cleansing, extractions, and a massage, this does the trick." – Sue Williamson, Digital Editorial Associate
Try this treatment: The Fully Loaded Facial, $250
Locations: 12 West 57th St. New York, NY; 541 Lexington Ave., New York, NY; 568 Broadway, New York, NY
Phone: 877.862.5477
Hours: vary by location
"A friend with absurdly amazing skin turned me on to this place, which uses all Biologique Recherché products. I've since joined the cult. In my opinion, it's the best money you could spend on yourself." – Karin Nelson, Features Editor
Try this treatment: Deep Cleansing Facial, $305
Location: 30 East 67th Street, 5th Floor, New York, NY
Phone: 212.879.5257
Hours: Monday through Friday 11 a.m. to 4 p.m.; Saturday and Sunday 10 a.m. to 6 p.m.
"When my skin needs a complete reboot, I rely on this all-encompassing treatment that uses three different micro current techniques—and of course Joanna's magic touch. She's the best facialist in NYC." – Kat Herriman, Digital Editorial Assistant
Try this treatment: Triple Crown Facial, beginning at $250
Location: 501 5th Ave., New York, NY
Phone: 212.949.2350
Hours: Monday through Friday 8 a.m. to 8 p.m.; Saturday 9 a.m. to 6 p.m.; Sunday 10 a.m. to 6 p.m.
"I have never, ever been a facial girl—until I tried Pratima. Located in the heart of Soho, this eco-friendly spa uses all organic minerals, flowers, roots, and herbs for an utterly relaxing (I fell asleep!) and genuinely transforming experience. The next day I actually SAW the difference! My complexion was smooth and my skin was crystal clear." – Gillian Sagansky, Assistant to the Editor in Chief
Try this treatment: Uddhata Ayurvedic Facial, $147
Location: 110 Greene Street, #701, New York, NY
Phone: 212.581.8136
Hours: Monday 11 a.m. to 6 p.m.; Monday through Friday 10 a.m. to 8 p.m.; Sunday 10 a.m. to 5 p.m.