Amber Heard Wore a Couture Swim Cap to the Aquaman London Premiere
The perfect look came courtesy of Valentino.
---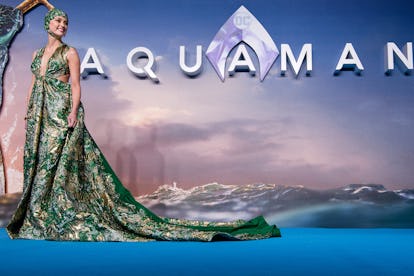 Jeff Spicer/Getty Images
In Aquaman, Amber Heard plays Mera, the love interest of the titular Aquaman and likely future queen of Atlantis who can move water with her mind and is also telepathic. So naturally, as the film has begun its rollout across the world, the actress has had to accompany its various premiere events with looks worthy of her role. She began in Beijing with a daring cutout minidress by Céline—a look from Hedi Slimane's Spring 2019 debut collection for the label—but her latest look, from Monday evening's London premiere, has set a high standard for the dramatic, thematically appropriate wardrobe she seems to have adopted for the press tour.
Heard stepped onto the red carpet—which was also a tonally fitting bright blue—at London's Cineworld Leicester Square theater in a bold Valentino Haute Couture look from Pierpaolo Piccioli's regal, cape-filled Fall 2018 collection, paired with gold Brian Atwood platform heels (Picciolo, by the by, was also responsible for one of Ezra Miller's recent eye-popping movie premier looks). The green-and-gold-foil floral gown, in a brocade-looking material with flowers sprouting out of it, features a plunging square neckline and Empire waist that gives way to a cutout back and a wide, trailing skirt with a thigh-high slit. Best of all, Heard topped it off, just as it was seen on the couture runway in Paris back in July, with a coordinating bonnet in the same three-dimensional fabric. It has a chin strap. It looks like a vintage synchronized-swimming cap. It cannot be accidental. Her character, after all, also has a penchant for gold (her diadem) and iridescent green (her suit). (She neglected to adopt Mera's bright red hair, but one must demonstrate some restraint in these things.)
Of course, none went quite as far as Jason Momoa, current Aquaman and future Saturday Night Live host, who showed up to the London premiere in a leather jacket, black jeans, a chain…and a trident. Here's to the cast of Aquaman, doing the absolute most.