Rising Model Amelia Gray Hamlin on the Responsibility that Comes with Instagram Fame, and Growing Up with Kaia Gerber
The 16-year-old, who recently signed with IMG, talks career goals, hanging out with Kaia Gerber, and growing up in the spotlight.
---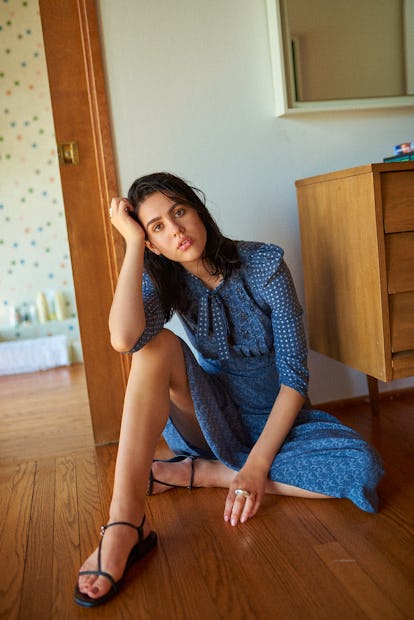 Amelia Gray Hamlin wears a Bottega Veneta dress, $5,400, 800.845.6790; Alumnae sandals, $475, alumnae.nyc; Agmes rings, prices upon request, agmesnyc.com. Photo by Adrian Mesko, styled by Nora Milch. Hair by Takashi Yusa at Melbourne Artists Management; makeup by Rommy Najor at SEE Management. Photo assistant: Miroslav Parushev. Fashion assistant: Colin Summers.
A good fashion show can inspire a number of reactions: joy, a jolt of energy, desire. But for an 11 year-old Amelia Gray Hamlin, it inspired an entire career path.
"My mom dragged me to New York with her when I was eleven or twelve, and one of her QVC friends invited her to a fashion show," the model recalls of her first experience with fashion, a Dennis Basso runway show. "I wasn't really excited for it, but as I was sitting front row and in it, I literally started to cry when I saw the models and the clothes. It was such an empowering experience, and I turned to my mom and said, 'I want to do this.'"
Now 16 years-old, Hamlin is officially doing it, having signed with IMG Models just last month.
Standing at 5'9, with pouty lips, enviable brows, and, yes, a famous last name, it is easy to see why the teen is posed to be the latest Millennial model to take the fashion world by storm. But despite growing up in Hollywood (her parents are the actor Harry Hamlin and Real Housewives of Beverly Hills star Lisa Rinna), Hamlin says she never attended to follow in her parents footsteps.
"I never wanted to be in the industry," she says. "Growing up, I went to a very progressive and, for lack of a better word, normal elementary school and all of my best friends' parents weren't in the industry. I used to cry when the paparazzi would follow my mom at Starbucks. It was always really weird for me, and I would ask my mom why she wasn't normal. That was a big struggle for me. But I've found my passion, and I can't escape from that."
The teen may just be getting started on the new career path, but luckily she has some pretty good references should she need any tips.
"I grew up with [Cindy Crawford] and her family, but I never knew she was a model," Hamlin says when asked about her model icons. "I asked my mom when I was like eight, 'What does she do?' When I did find out, I just became so fascinated and began to see her work, and I was so inspired by it."
Hamlin also counts Crawford's daughter Kaia Gerber, also a burgeoning model, among her inner circle. "I remember when Kaia was doing Marc Jacobs last summer and she had to leave vacation early for work. That's hard to do when you are leaving everyone on vacation," she says. "It's nice to have a group of people that don't necessarily know what you are going through, so you can have normal-ness to go to at the end of the day. But it's also a nice to have a shoulder to lean on about what you are going through and the craziness of it all."
Then of course, there is her older sister, Delilah Belle, who herself signed with IMG earlier this year. "My sister and I have such a nice, solid group," she says. "With social media, it is so easy to stay connected, and the more we see each other, the closer we get."
It's true; if you are one of Hamlin's 188,000 and counting followers, you are privy to the sisters ever-so-stylish friend group, always on set, off for some glamorous vacation, or just goofing off like, you know, teenagers. But, Hamlin says, it's just part of the job.
"You have to think about what you are posting and what time you are posting it at, and the message you are portraying," she says. "It's a lot of responsibility; it's not just fun and games… When I have a break, I don't post. And when I take a break from posting, I find that I can relax and chill."
In her free time, Hamlin says she likes to watch space documentaries ("I'm obsessed with astronomy"), go boxing ("My trainer is my best friend"), and, come fall, there's also that whole high school thing. "I don't know if my junior year is going to be an average junior year, or if i'm going to be really busy," says Hamlin, who home schools. "With this industry, you just don't know. Everything is up in the air."
But that hasn't stopped her from thinking big. "Versace and Miu Miu," she says when asked about her dream jobs. "I would die if I ever walked for Versace. And Givenchy. All of them. I always feel like I'm cheating on them when I say just one."
And as for if we will see her on the runway come September? "I don't know… I guess we'll just have to wait and see," she says, teasing.
Spoken like a true professional already.
Watch: Catch up with all of Hollywood's favorite scions, here: