American Horror Story Coven vs. Murder House: Everything We Know So Far, and 8 Things We Need to Happen
From an appearance by Lana Del Rey to a grand finale.
---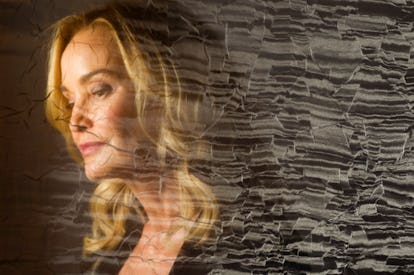 Brian van der Brug
Ryan Murphy is finally cutting to the chase and giving fans what they've not-so-secretly wanted since 2014 with the American Horror Story Murder House/Coven crossover season of our nightmares. He's long teased the possibility, and last week he tweeted, "The Coven/Murder House AHS crossover season won't be happening next year…because it's happening THIS YEAR." Over the weekend, the Coven star Emma Roberts seemed to all but confirm that she'll be returning, with an Instagram post of herself saying—what else?—"Surprise, bitch."
Murphy previously leaked details of the upcoming season by stating that it will take place in a post-nuclear-apocalypse world, and while we're not sure if that was a red herring, it seems the news that Kathy Bates, Evan Peters, and Sarah Paulson will be returning holds true. There's also been no official walk-back of the news that the legendary Joan Collins will appear (it was announced that she'd be Peters's character's grandmother, but, you know, she would make a great supreme of an English coven). Murphy also tweeted (and then deleted) that all the actresses who played witches on Coven will be asked back, without clarifying whether or not their characters' status as living will impact things. The return of Murder House characters seems to be much more up in the air, because, as the name Murder House alone would suggest, a whole lot of people were murdered on that season. However, if you recall from all the way back in January, Dylan McDermott tweeted that he'd be returning "in the near future."
As previously announced, before the reveal of the theme, Cheyenne Jackson, Billie Lourd, Adina Porter, Billy Eichner, and Leslie Grossman are also on board. They're all AHS alum, though all but Porter made their debut post-Coven. Murphy has also promised a giant twist in the middle of the season, and that, folks, is all we know for sure.
The rest is speculation, though the most popular theory stringing the two seasons together is that Roberts's Coven character, Madison Montgomery, is somehow related to the Murder House characters Nora and Charles Montgomery. They do share a last name, and both Madison and Charles have powers that resemble necromancy, but Charles and Nora didn't leave behind an heir who was in a position to raise a normal family. Still, there are other ways they could be connected.
Instead, lets focus on what we need from the season, logistics and plot points be damned (besides, at this point, complaining about logic on this show is like complaining that a Choose Your Own Adventure novel didn't have enough character development).
1. A Lana Del Rey Cameo
Coven's Stevie Knicks cameo was iconic, but the eccentric Gemini has since symbolically passed her role as music's reigning witch woman on to Lana Del Rey (who, you'll remember, once hexed Donald Trump) via duet. So who better to serve as this season's surprise cameo? Besides, she brings together the two seasons' themes of old-school Hollywood noir and youthful witchiness better than anyone.
2. Cast Chloë Sevigny as Myrtle Snow's Cool-Girl Niece
We'll accept that Myrtle Snow is dead and gone (anyway, if Frances Conroy returned, it might make more sense for her return as her Season 1 character), but we'll never forget her final words. Her "Balenciaga" death rattle is an iconic exit line perhaps only rivaled by "Miss…Vanjie."
Still, it does make us think about how much Balenciaga, the actual brand, has changed since then, and what Myrtle would think of all those pricey Ikea bags and ugly sneakers.
Here's a free idea: Recruit occasional AHS costar Chloë Sevigny (who, criminally, has never played a witch onscreen) as her cool-girl aunt who's a little less Cristobal and little more Demna. Imagine her walking in in those Balenciaga platform Crocs, and when someone says, "Cool shoes, where are they from?" she just rolls her eyes and mutters, "Balenciaga." We'd get the connection right away.
3. Bring Back Dandy Mott
Yeah, this is strictly a Murder House/Coven crossover, but characters from previous seasons have popped up in others before, and Murphy maintains that all the stories are connected somehow. So why not bring back one of the show's more iconic characters, who, conveniently, is played by an actor who doesn't have a character in these seasons. Sure, he's dead, but both Murder House and Coven brought murderers from the dead. It makes sense. Besides, bringing him to L.A. might give Dandy a chance to live his lifelong dream of becoming a thespian.
4. Give Mariah Carey a Role
There's no logical reason for this. It just seems like something a Ryan Murphy show should have done at some point by now. Gabourey Sidibe knows her from Precious. Have her make the call. It's fine. It'll work. Let her do whatever she wants.
5. Kathy Bates Gets One Donald Trump Joke, and It's Got to Be Really Good
In Coven, Bates played a violent racist who had been undead for years only to come back and be baffled by modern times, most memorably by the existence of Barack Obama. You just know there's at least one really good Trump joke to be made through her character, Delphine LaLaurie, this season, but don't go overboard. The show kind of blew its load on politics in Cult.
6. Sure, Give Us Some Gaga
If she's not too busy promoting A Star is Born, why not? The character she briefly portrayed in Roanoke had a clear-cut connection to the Coven crew until, you know, that whole big twist. Still, her Hotel character, Elizabeth, is an immortal glamour vampire who does have a connection to Murder House's Charles and Nora and has probably come across a Coven character or two in her time. Throw her in there.
7. Give Jessica Lange Whatever She Wants to Return
This is the most obvious, and yet Lange has sworn off any future seasons of American Horror Story (even as she's continued to work with Murphy on Feud). But how are you supposed to do this particularly season with out her? Give her whatever she wants. She won Emmys for roles in both of these seasons after all. Don't let the Knotty Pine win.
8. Let This Be the Last Season
You know why people are so excited about this idea? Because it's no secret the last few seasons of the show have been lackluster. The whole enterprise is sort of running out of steam, and Murphy just signed a megadeal to jump to Netflix. That doesn't forbid him from continuing to work on AHS, but clearly his plate runneth over. Why not just go out with a bang and bring it to end. Alas, the show has already been renewed for a ninth season.