Amy Schumer Announced She's Not Pregnant—And Has A New Clothing Line—With a Cocktail And A Thank You For "Thinking of [Her] Womb"
She made the announcement with a cocktail in hand.
---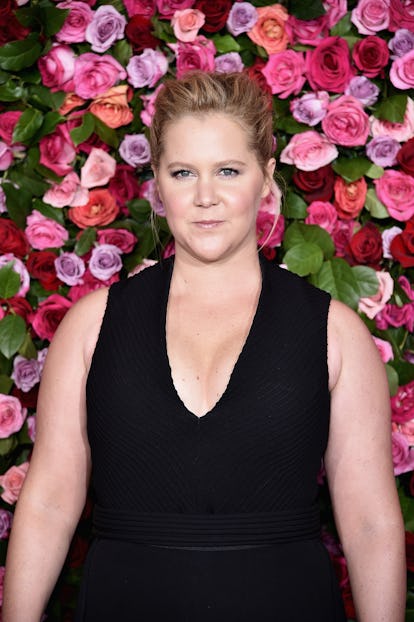 Photo courtesy of Getty Images
Amy Schumer has a big announcement to make: she's not pregnant. Nonetheless, she appreciates that her womb is on your mind, as she explained in a video posted to Instagram, with her cocktail glass raised high.
The newlywed, who just exchanged vows with her husband chef Chris Fischer in February, felt the need to explain after a friend alerted her that she sparked a pregnancy rumor by posting a photo of herself with her hands suggestively positioned by her stomach. The photo was also posted with the teasing caption, "@leesaevansstyle and i are cookin somethin Up." "I am not pregnant," Schumer later said on Instagram. "I'm sorry my friend said that my hands were near—it looked like I was pointing to a bump or something—but I'm not [pregnant]."
Instead, it was all a misunderstanding. The thing she was "cooking up" was a forthcoming collection which the dress she was wearing belongs to. "Leesa Evans and I have created a clothing line for all sizes and shapes at a chill price point," Schumer added. "That's what I was trying to allude to, but thank you for thinking of my womb."
Interestingly, the red dress Schumer wore in her definitely not pregnant photo made an appearance on her Instagram last week when she posted a photo from the same location with the caption "work."
Schumer seems to just be enjoying married life—as well as work—for the moment. After her wedding, she talked about how much she loves being a wife. "I'm a wife as hell," she said on SiriusXM. "But it's still, like, a novelty. Somebody went to sit next to [Fischer] and he's like, 'My wife is sitting here,' and then I got back and he was excited to tell me that he said that. I just have been really overusing it to a degree that's insane. Like, when it's completely uncalled for."
Schumer is a cool wife, not a regular wife, though, as her vows included the words "I promise I'll keep going down on you, even though everyone tells me I won't.'"