Why You Won't See Amy Schumer in Any Super Bowl Commercials This Year
"I know it must sound like a privilege ass sacrifice but it's all i got."
---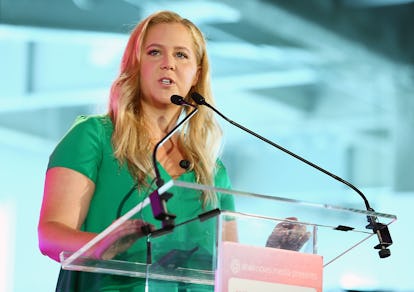 Astrid Stawiarz
Amy Schumer has never been shy about her opinions, and she's not starting now.
The comedienne called out Maroon 5 on Instagram for accepting the NFL's offer to play the Super Bowl halftime performance in 2019. Schumer thinks Maroon 5 should decline the offer. "Why not kneel next to your brothers? Otherwise how are you not complicit?" she wrote on Instagram Friday. "I think it would be cool if @maroon5 backed out of super bowl like @badgalriri Did."
Schumer continued to give her own anecdote about why she declined to participate in this year's Super Bowl. "I personally told my reps I wouldn't do a Super Bowl commercial this year," she explained in the post. "I know it must sound like a privilege ass sacrifice but it's all i got. Hitting the nfl with the advertisers is the only way to really hurt them. I know opposing the nfl is like opposing the nra. Very tough, but don't you want to be proud of how you're living? Stand up for your brothers and sisters of color."
Schumer's plea comes after Rihanna reportedly turned down a chance to headline the Super Bowl LIII halftime show, showing her support for Colin Kaepernick, the former 49ers quarterback who kneeled during the national anthem. While Rihanna has not addressed the reports publicly, it's understandable why she would want to decline the offer since the NFL's treatment of Kaepernick and protesters has been disheartening.
It's also a stand-up move for Schumer to not only ask Maroon 5 to decline the NFL offer, but to say she's actively refusing any offers she gets involving NFL spots. We stan.
Related: Emily Ratajkowski and Amy Schumer Were Amongst the Hundreds of People Arrested While Protesting the Kavanaugh Nomination