How Ana de Armas Went from Acting in Cuba to Starring Alongside Ryan Gosling in Blade Runner 2049
The sci-fi film's star talks why she won't be stereotyped as an actress, working with Ryan Gosling, and revamping a cult classic.
---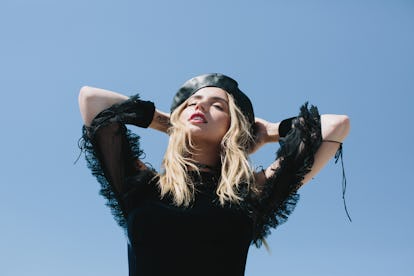 In 2017, it takes a lot for movie audiences to get excited for a sequel. But when that sequel comes nearly four decades after the original, which just happens to be a major cult classic, well, that's something to talk about.
Such is the case with Blade Runner 2049, which opens this Friday, a full 35 years after the first film opened. And perhaps no one is more excited about it than Ana de Armas, the 29-year-old Cuban actress who is the film's female lead. "It is magical what you see on screen," she gushed. "It's a futuristic, action thriller, but then on the other hand, you have a character piece by [director] Denis Villeneuve. The big scope of the movie and then the intimacy of these characters is a beautiful combination. It is really special."
In the film (and we promise, this is not a spoiler), de Armas plays Joi, the romantic partner of Ryan Gosling's Agent K, a complex part that works as the heart of the film—and one that the actress admits she originally was not meant to get. "At the beginning, all I heard [from my management] was, 'There is this audition, and we are pushing for you to get into the room.' So pushing means that I was not on the list," she said with a laugh. "But I'm glad that they did push."
The actress, it turns out, is not a stranger to the art of a good push. Growing up in Havana, de Armas discovered her passion for acting at an early age, and quickly set her career path into motion. "There wasn't a specific day or actor or anything like that, but I do remember that I would watch a movie and if there was any scene that I liked, I would run from the couch to the mirror and repeat it over and over again. I would get very emotional," she recalled. "When I was twelve, I heard about the National Theater School and I told my parents, 'That's what I want to do.' And that was it."
After graduating from the National Theater School of Cuba, de Armas stayed in Cuba for a few years, acting in local movies, before deciding to move to Madrid to further pursue her acting career. "I felt like I wanted more," she said. "I've always been very ambitious, and I always knew that I wanted something else. Cuba was a good start, but I knew I wasn't going to develop a real career, and I wanted to get closer to filmmakers that I wanted to work with. I moved to Madrid with 200 bucks in my pocket to see what was going to happen. Of course, I didn't know that 200 euros was nothing, because in Cuba, 200 was a lot, and the money I had been saving from my movies."
Within the first week, however, de Armas landed a role on a new television series named El Internado Laguna Negra, which was a runaway success, making her a well-known name in Spain. But, once again, she felt like she wanted more. "It was really exciting, but I got to the point like I had in Cuba where I thought, 'I want more than this,'" she said. "I wanted something challenging."
De Armas was cast in her first Hollywood film, the sports drama Hands of Stone, in 2016, and officially moved to Los Angeles, despite not knowing a single person—or any English. "I had to go to class, and so for the first three or four months, I couldn't do anything," she said. "It was good exercise for my ego after eight years in Spain having a great career. When you move to the States, whatever you've done before doesn't count. It was kind of refreshing, to be honest. When you do a TV show, your life really changes and everyone knows you everywhere you go. Coming here and being in a classroom where everyone is learning to use past tense was great. I was there with my notebooks just taking notes and doing my homework."
After four months of intense, full-day classes, de Armas felt ready to fully dive into auditioning—with one major stipulation. "I told [my team], 'I don't want to audition for Maria or Juana. I want to audition for whatever everyone else is auditioning for.' And it wasn't that I didn't want to go for the roles; I didn't want to only go for those roles. I consider myself an actress. It's weird when people say, 'You're a Cuban actress' or 'You're a Spanish actress.' They put a thing in front of what you are, but I'm like, 'I'm an actress.' I'll see what I can do, but don't put me in a place that you don't know yet. Don't put a label on my work before you see it. I just wanted a chance. I wanted to know that I was chasing the same goals as all the other actresses that I love and admire. Everyone deserves the opportunity to fight for the part they want."
With Blade Runner 2049, de Armas has gotten just that, toplining the film alongside Gosling, Harrison Ford, and Jared Leto, after several auditions with director Villeneuve. "I felt very comfortable with Denis," she said. "He's a very sweet, grateful person. He loves actors because he understands how difficult it is to be an actor. With all my nerves, I never felt my talent or capacity to perform was a question. He was just looking for the right person for the job."
Her final audition with Gosling, however, was another story. "I was going crazy, like, 'Seriously? The last thing I need is to meet Ryan Gosling today,'" she recalled. "But he was so, so nice. We laughed a lot on set. Some takes we couldn't even finish because we were laughing."
The cast filmed the movie in Budapest over the course of five months, for which de Armas underwent physical training. "It wasn't a very physical role, but I did know that we had five months ahead of us for a very intense, emotional shoot, and I wanted to feel strong, healthy, and have that discipline and routine," she said. "It was maybe more personal than what the character really needed."
With the role, de Armas brings a enormous deal of humanity and emotion into the film. "Denis wanted her to be very real, very emotional, and very vulnerable," she said. "We wanted the audience to forget the obvious. In order to do that, you really have to see all the things that make you human, like passion and love."
As for the movie itself, whose plot has been kept tightly under wraps ahead of Friday's opening? Here's what you need to know: it's visually stunning, completely immersive—and it made de Armas cry. "I had to take 25 minutes after it was over with a box of Kleenex, just taking it in."
Related: Blade Runner 2049 Star Jared Leto Is Really Into the Fashion at Renaissance Fairs
Jared Leto's Robert De Niro Impression Is Flawless