Anaïs Gallagher, Model Descendant of Brit Rock Royalty, Is Now a Fashion Editor
Noel Gallagher's 18-year-old daughter has been named a contributing fashion editor for Tatler.
---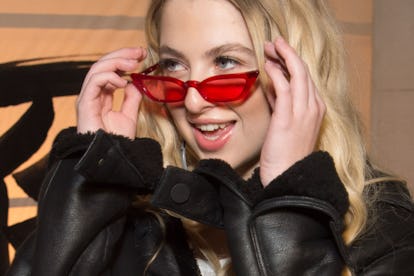 Stephane Cardinale – Corbis/Getty Images
At just 18 years old, Anaïs Gallagher, the daughter of Oasis musician Noel Gallagher, is no longer just a model—she can now tack on an editorial position to her growing résumé.
The descendant of Brit rock royalty has been named a contributing fashion editor for Tatler magazine's digital space, a position that is also simultaneously occupied by Lady Amelia Windsor, a fellow model and a cousin of princes William and Harry.
Gallagher is definitely no stranger to the glossy world of fashion; she made an appearance on the runway at Dolce & Gabbana's secret SS18 show during Milan Fashion Week, starred in Reebok's fall campaign, and has been signed to a modeling agency since she was just 11 years old. Now she is using her way with words to take on another role, writing about style and trends for Tatler.
While the daughter of Noel Gallagher and Meg Mathews has admitted that she is aware of her scion status and that she is "here with this platform because of my parents," she also insists that her staying power as a thriving model and fashion darling will come down to her own commitment to working hard.
The tradition of the Gallagher family feud has extended to Liam and Noel's children, with Liam's son Gene taking a jab at his cousin and her burgeoning modeling career in September 2017. After discovering that Anaïs was cast in Tommy Hilfiger's London Fashion Week show, Gene (whose brother is also a model) cast a few insults at his cousin while criticizing the celebrity nature of the event. But infighting aside, Gallagher appears determined to not let any drama get her down, familial or otherwise. The model has proven she is ready to share her voice on the platform given to her by Tatler, as she has written editorial pieces elsewhere as well.
Last June, Gallagher wrote a column for Teen Vogue about being too young to vote in Britain's general election. "It can sometimes feel that young people aren't offered the privilege of entering the polling booths because we're deemed unknowledgeable or irresponsible, yet those rules don't seem to apply for those in other age groups," she wrote. "We're the generation that rules the internet and luckily for us we are living in an age where our posts, tweets and Snapchats, all sharing our opinions can impact current situations all over the world."
The model continued her activist streak by striking up a relationship with PETA and "encouraging more people to get educated about the industry they give so much money towards," according to her Instagram post about her vegetarian cause in January 2018.
Gallagher's influence and reach on social media (she has nearly 200,000 followers on Instagram) will likely drive traffic from some younger readers toward the glossy society pages of her new employer, and while at Tatler, she will likely continue to crank up her dry sense of humor on Twitter and shake off rumors that she and Brooklyn Beckham are romantically involved.
Related: Liam and Noel Gallagher's Spawn Have Taken Up the Family Legacy and Started a Catty British Feud of Their Own