Liam and Noel Gallagher's Spawn Have Taken Up the Family Legacy and Started a Catty British Feud of Their Own
"U look like ur dad w a blonde wig on," Gene tweeted of his cousin Anaïs, who was cast by what Gene called "a complete doughnut" to walk in Tommy Hilfiger's London Fashion Week show.
---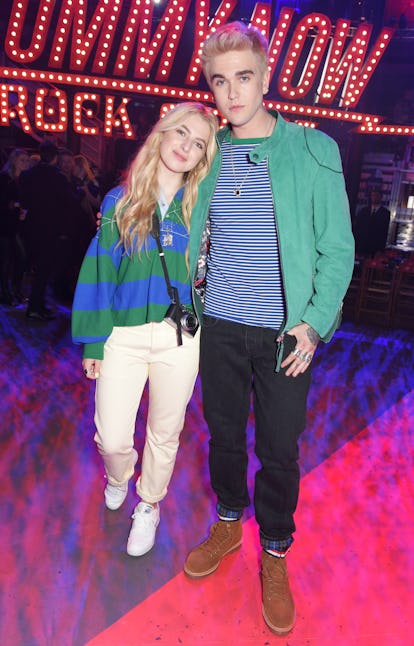 David M. Benett/Getty Images
If you aren't familiar with the feud between the brothers and cofounders of the band, Oasis Liam and Noel Gallagher, let this quote by the former from last month enlighten you: "Every time I see a couple of pictures of him, I just see a potato—maybe it's the way my brain is wired. Stalker potato when he's got his arm around Bono," he said of what he perceives to be Noel's fascination with celebrity, which is part of what's lately driven the pair apart. "I'd rather f—ing work in McDonald's mate or get hit by a f—ing 18-wheeler at 100 miles an hour than bring my band and put it in that world," he continued.
But as Liam recently reminded us in a delightful video of himself rather than having "about four people doing it," it's not the '90s anymore, which also apparently means that it's come time for the Gallaghers' feuding to stretch on to another generation, too. His 16-year-old son Gene made that official this week when he took to his 10,000 followers on Twitter to vent about the casting at Tommy Hilfiger's show at London Fashion Week,, where, in addition to three Hadids and two Jaggers, the designer also happened to feature Anaïs Gallagher, Gene's 16-year-old cousin—and, of course, Noel's daughter.
For whatever reason, this, apparently, was too much for Gene, who seems to have inherited his father's taste for inventive, culinary, and British insults (Specsavers is a British eyewear chain):
Unfortunately, Gene deleted his additional critiques of the show—besides his promise that "never will u ever see me attend celebrity driven, posh rubbernecking, kids culture club…" However, thanks to the Evening Standard, there's a record of his additional choice words about his cousin: "Firstly, u look like ur dad w a blonde wig on… Secondly, u model coz u look like ur dad not coz of who u are nobody care about who u are lmao."
Gene continued criticizing the scene that included Daniel Day-Lewis' son Gabriel-Kane, Jude Law's son Rafferty, and Suki Waterhouse's sister Maddi. But of course, the irony here is that Gene's older brother, Lennon, is also a burgeoning model; in fact, after criticizing Anaïs, who signed to Elite when she was just 13, Gene tweeted a photo of Lennon, who only signed to DNA earlier this year, stating that any show that didn't feature him would be "shite." (Not that Lennon's newness to the industry stopped him from mingling with celebrities himself when he sat front row in a trench coat at Burberry.)
Anaïs, for her part, seems to be keeping her cool. After all, the pair's feud seems to be rather sudden, given that it was just a couple of weeks ago that Anaïs retweeted this photo of her and Gene:
In that way, though, the pair are even more like their parents. After his recent tirade about Noel, Liam also enthusiastically said that "without a doubt" he'd consider an Oasis reunion. "That's my band, but we got to become brothers first before we start talking about music. When we start liking each other, inevitably the next step would be to take the band for a spin round the block."
Hopefully, Gene and Anaïs will also make amends soon (and hopefully Gene doesn't discover that Anaïs is also a budding photographer). After all, even Liam seems to be making an effort when it comes to reconciling lately—or at least taking baby steps towards doing so.
Earlier this summer, he finally welcomed the possibility of seeing "the kid I haven't seen"—aka his oldest daughter, Molly, who's 20 years old and who he's still never met, though he told GQ he "would be" open to meeting. (Though not exactly any time soon: "At the moment it ain't happening," he made a point to continue.)
Given that for the Gallaghers, feuding seems to be something of a rite of passage—Liam and Noel's started when the former was just 15 and decided to pee all over his brother's new sound system—Molly might in fact be the only one in the family who's been spared from an interfamilial feud to date. "Got no problem with the girl whatsoever," Liam continued in what, all potatoes considered, was definitely one of the most notable statements he's made about one of his family members.
Related: Meet Lennon Gallagher, Liam Gallagher's 17-Year-Old Son and the Face of Pharrell's New G-Star Campaign
See W's most popular videos: