Musical Goddess Joanna Newsom, and Comedian Husband, Secretly Become Parents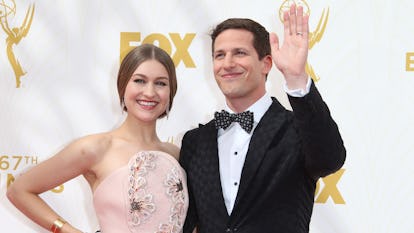 Dan MacMedan/WireImage/Getty Images
Whimsical harpist Joanna Newsom and comedian husband Andy Samberg have welcomed a baby girl, reports Us Weekly, though the entire pregnancy, as well as the specific birth date, were kept in total secrecy until now. The birth was confirmed exclusively to the publication, though no other details were given.
Samberg is an actor, perhaps most well-known for his breakout role on Saturday Night Live from 2005 to 2012 and a hero to comedy nerds everywhere through his troupe The Lonely Island. His other half, Newsom, is a singer/songwriter and professional harpist beloved by Willow Smith and the Pitchfork set; she has also a regular in the body of work of acclaimed filmmaker Paul Thomas Anderson, who has directed some of her music videos and also cast her in his Inherent Vice adaptation with Joaquin Phoenix. With these artistic genes, their little girl is likely to get bitten with the performance bug at some point.
The couple were engaged in February 2013, marrying later that year, in September. Prior to their tying the knot, they had been dating for a relatively low key five years. That makes it just under 10 years as a duo before they added a third to their group.
Though no one even knew Newsom was pregnant until after she gave birth, both Newsom and Samberg have spoken about expanding their family in the past. Newsom chatted with Larry King in December 2015 about the couple's thoughts of having children, adding, "Little harpist Samberg, thank you for putting that image in my head." Just a month later, Samberg confided to reporters at the Fox All-Star Party that he "loves babies. I would love a baby someday."
Congrats—even more so on being able to keep it from the public for so long.
Related: Willow Smith Is Really, Really Into Covering Joanna Newsom Songs
See What's Trending in W Video: