Chase Sui Wonders, Anna Sui's Niece, Is a Harvard-Educated Comedy Buff and Aspiring Actress
If that's not a triple threat, then we don't know what is.
---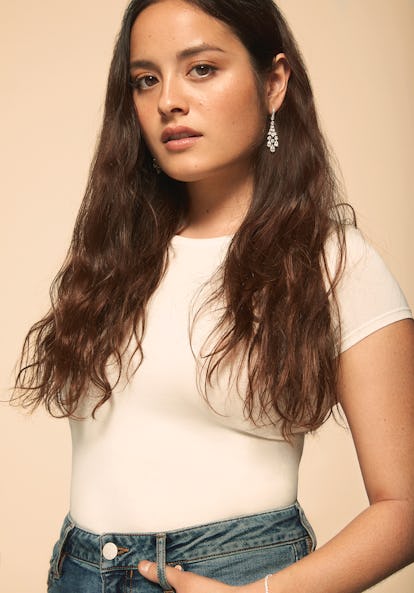 styled by Sarah Zendejas. Visual Editor: Biel Parklee. Hair by Rheanne White for Kerastase at TraceyMattingly.com, Makeup by Deanna Melluso at The Wall Group. Production Assistant: Alex Hodor-Lee.
You might think that the best seat in the house at New York Fashion Week is front row, but Chase Sui Wonders, the 21-year-old niece of designer Anna Sui, can tell you otherwise. "When we were little, we would sit front row, but on the ground," Wonders recalled of her introduction to fashion alongside her older siblings and cousins. "In some videos, you can see us on the runway crawling around and fighting."
Most fashion scions will tell you a similar story. Take Luka Sabbat, for example, who has been crying front row at fashion shows since he was three—long before North West. The gaggle of Beckham children can often be found siting on their father's lap during mom's runway shows, model Natalia Vodianova brings her children along when she's not walking, and Julianne Moore's 14-year-old daughter also accompanied her to Ralph Lauren this September.
"When we were three, four, and five, my aunt would let my sister and my cousins and I pick our favorite looks from her shows, and then she would shrink them down," Wonders added. "Like these giant fur coats for toddlers. We would then put on our fashion shows because we had so much of her clothing."
Although Wonders is dipping her toes in the fashion world again as a young adult, she's taken a different path than her peers—one might call it the road less "influential."
Wonders, who grew up in the suburbs outside of Detroit, just finished her junior year at Harvard University, where she's studying film production. She's on the club hockey team, is an actress in a number of student-directed short films, and writes for the Harvard Lampoon, the school's humor magazine. (Lampoon alumni include Conan O'Brien, Andy Borowitz, B. J. Novak.) This summer, she and her peers will be working with IFC on writing and starring in a comedic web series.
As for her high school career: "There was a period of time when I watched Rushmore every single weekend," said Wonders, who was obsessed with the over-achieving lead character, Max Fischer.
"I tried to embody him," she added. "I didn't have that many friends in high school, and was in a ton of dumb, crazy extra-curricular activities like the Rubik's Cube Club." (She can still do the brain-twisting puzzle today, just "not as fast.")
Growing up, Wonders was also obsessed with the work of Sofia Coppola, and envisioned herself as a young Elle Fanning sipping tea like the actress does in Somewhere. So, when Coppola came knocking earlier this year to ask Wonders to be in her film for Calvin Klein underwear, the answer was an emphatic "Yes!" This, though, despite the fact that Wonders had never modeled before.
"She had an insane, soft power that was all-consuming when you were around it," said Wonders, who was still in awe of the campaign, which also included industry veterans like Lauren Hutton and fellow scions like Maya Thurman-Hawke.
You couldn't ask for a better introduction to the fashion world, really. But Wonders is still taking it slow, and in small doses. She's currently signed to Untitled Entertainment, and has only been in front of the camera one other time for CR Fashion Book. So, despite her early years crawling on the runway, she can hardly imagine ever walking it herself.
Before leaving set a few weeks ago, Wonders looked around at the hair and makeup team, photo posse, and security guard packing up a duffle bag full of Swarovski diamonds, and whispered: "All this, for me?"
Meet Anna Sui's Model Clique: Naomi Campbell, Linda Evangelista, and More
Watch Anna Sui Talk Fashion Royalty