Those Questions You Had About Anwar Hadid, Answered
The 19-year-old enigma has finally emerged from the shadows.
---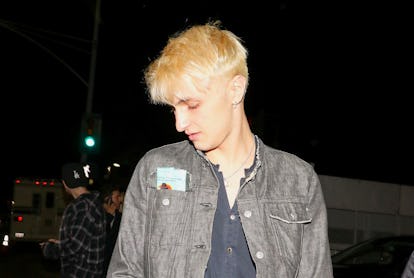 Bauer-Griffin/Getty Images
Being a 19-year-old with more than two million followers on Instagram, as well as the tabloid make-out interest of Kendall Jenner, sounds pretty impressive for any teen. But considering that his two supermodel sisters are among the most famous millennials in the world, though, Gigi and Bella's little brother Anwar Hadid has managed to stay mostly under the radar.
Even his mom, Yolanda Hadid, couldn't convince him to join his sisters in making a cameo on her modeling competition show, even though Anwar is a model himself, having signed to IMG in 2016. "It's just not part of his nature," she told W earlier this year. "Anwar's actually kind of shy. Unless I push him into things, he likes to be in the background and do his thing."
On Wednesday, though, apparently of his own volition Anwar let his millions of followers join him in the background by throwing them a few fun facts via a Q&A session he held on his Instagram Story. In case you missed it, read on for some rare scintillating insights into the life of Anwar the enigma, here.
He's single.
Well, we know now the relationship status of at least one Hadid! Though don't get your hopes up too high; Anwar seems quite pleased with being single "as fuccc"; he added three prayer-hand emojis to his reply.
He keeps his real friends close.
And if you're finding yourself wondering who exactly those friends are, that probably means you're not one of those friends. When asked for his thoughts on friendship and loyalty, he responded that for him, "it's like I don't really have to talk about it with the people I know got me for life.. if u gotta speak on it and question it.." he wrote, throwing in a hand-raising emoji, "sorry kid." (Read into that what you will when it comes to matters like Kendall.)
He's a gamer.
When presented with the choice between Dragon Ball Z and Fortnite, he forfeited, responding, "impossible."
He has at least a basic knowledge of astrology.
When asked for his zodiac sign, Anwar responded with the Cancer emoji. (Meaning that he's in the same cunning but nurturing group as celebs like Selena Gomez and Lindsay Lohan.)
He's part cherub.
When asked which of the tattoos on his body was his favorite at the moment, Anwar responded with a snapshot of a cherub deep in thought, resting its head on its hand in an illustration by the tattoo artist Doctor Woo.
He just might be the next Justin Bieber.
At least in the sense that he has some thoughts about god. When asked if he thought if god was a woman, Hadid replied, "I believe god is like probably the purest form of femininity and masculinity yano? I think god is everything."
He's compassionate.
When asked what he would do to change the world, he replied, "Give everyone who doesn't have the blessing to live peacfully [sic] a way to live freely without discrimination"—a response that actually seems genuine, especially since his sisters have both used their platforms to protest Donald Trump's immigration policies.
He's got your back.
Hadid's responses to the intimidating question "Do you think we still can save the world?" was much more oversized than query, which he overlaid with the words "BIG TIME," itself.
Related: Kendall Jenner and Anwar Hadid Spark Romance Rumors
A Visual History of Male Celebrities Enjoying Fashion Shows, From Leonardo DiCaprio to Timothée Chalamet
Sean "P. Diddy" Combs, Jay-Z, Russel Simmons and Foxy Brown attend the Zac Posen Fall 2005 show during the Olympus Fashion Week in Bryant Park February 10, 2005 in New York City.

Getty
Joshua Jackson attends the Tommy Hilfiger Fall 2009 fashion show during Mercedes-Benz Fashion Week in the Tent at Bryant Park on February 19, 2009 in New York City.

Michael Buckner
Dev Patel watches the Burberry Prorsum Spring/Summer 2010 Show at Rootstein Hopkins Parade Ground during London Fashion Week on September 22, 2009 in London, England.

Getty
Clive Owen and George Clooney during Giorgio Armani Prive in L.A. at Green Acres in Los Angeles, California.

Jeff Vespa
Samuel L. Jackson during the Tommy Hilfiger Fall 1999 Fashion Show at Roseland in New York City.

KMazur
Michael Keaton during Mercedes-Benz Fall 2005 L.A. Fashion Week at Smashbox Studios presents Jenni Kayne – at Smashbox Studios in Culver City, California.

Getty
Sean "P. Diddy" Combs during Mercedes-Benz Fashion Week Fall 2003 Collections presents Marc Jacobs at New York State Armory in New York City.

Getty
Leonardo Dicaprio during Giorgio Armani Prive in L.A. at Green Acres in Los Angeles, California.

Getty
LL Cool J, Jimmy Fallon and guest during Olympus Fashion Week Spring 2006 presents John Varvatos at Altman Building in New York City.

Desiree Navarro
Orlando Bloom attends the Christian Dior Ready to Wear Spring / Summer 2012 show during Paris Fashion Week at Musee Rodin on September 30, 2011 in Paris, France.

Getty
Jack Nicholson during Paris Fashion Week Haute Couture Christian Dior show at Hippodrome d' Auteuil in Paris, France.

Getty
Michael Douglas attends the Michael Kors Fall 2013 fashion show during Mercedes-Benz Fashion Week at The Theatre at Lincoln Center on February 13, 2013 in New York City.

Getty
Frank Ocean attends the Chanel Fall/Winter 2013 Ready-to-Wear show as part of Paris Fashion Week at Grand Palais on March 5, 2013 in Paris, France.

Getty
Harry Styles attends the front row at Burberry Prorsum Womenswear Spring/Summer 2014 show during London Fashion Week at Kensington Gardens on September 16, 2013 in London, England

Getty
Ansel Elgort attends the Dior Homme show as part of the Paris Fashion Week Menswear Spring/Summer 2015 on June 28, 2014 in Paris, France.

Getty
Sean Penn attends the Christian Dior show as part of Paris Fashion Week Haute Couture Fall/Winter 2014-2015.

Getty
Victor Cruz attends the Lanvin Menswear Fall/Winter 2014-2015 Show as part of Paris Fashion Week.

Getty
Will Smith attends the Louis Vuitton Menswear Fall/Winter 2014-2015 Show as part of Paris Fashion Week on January 16, 2014.

Getty
Jared Leto attends the Chanel show as part of Paris Fashion Week – Haute Couture Fall/Winter 2014-2015 at Grand Palais on July 8, 2014 in Paris, France.

Getty
Kanye West attends the Celine show as part of the Paris Fashion Week Womenswear Fall/Winter 2014-2015 on March 2, 2014 in Paris, France.

Getty
Bradley Cooper attends the front row at Burberry Womenswear Autumn/Winter 2014 at Kensington Gardens on February 17, 2014 in London, England.

Getty
Chiwetel Ejiofor, Samuel L. Jackson and John Boyega attend the front row at Burberry Menswear Spring/Summer 2016 show at Kensington Gardens on June 15, 2015 in London, England.

Getty
Lenny Kravitz and Liam Gallagher attend the Saint Laurent Menswear Spring/Summer 2016 show as part of Paris Fashion Week on June 28, 2015

Getty
Joe Jonas attends the front row at the Siki Im fashion show during New York Fashion Week: Men's S/S 2016 at Skylight Clarkson Sq on July 16, 2015.

Getty
Benedict Cumberbatch attends the Burberry Womenswear Spring/Summer 2016 show during London Fashion Week at Kensington Gardens on September 21, 2015 in London, England.

Getty
The Weeknd attends the Christian Dior Spring Summer 2017 Cruise Collection at Blenheim Palace on May 31, 2016 in Woodstock, England.

Getty
Zayn Malik attends the Balmain show as part of the Paris Fashion Week Womenswear Fall/Winter 2017/2018 on March 2, 2017 in Paris, France.

Getty
Robert Pattinson attends the Christian Dior Haute Couture Fall/Winter 2017-2018 show as part of Haute Couture Paris Fashion Week on July 3, 2017 in Paris, France.

Getty
Douglas Booth and Nick Jonas attend the TOPMAN Design Front Row during London Collections: Men AW16 at Topman Show Space on January 8, 2016

Getty
David Beckham attends the Louis Vuitton Menswear Fall/Winter 2017-2018 show as part of Paris Fashion Week on January 19, 2017 in Paris, France.

Getty