Arden Wohl Had a Very Instagrammed Williamsburg Wedding
Arden Wohl, socialite, married art star Jonah Freeman in a Williamsburg wedding that was quite Instagram-worthy.
---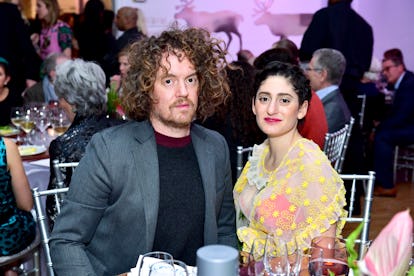 Sean Zanni
Cutesy Instagram hashtags are the new drunk uncles: it's just not a wedding until you have one. It girl and vegan shoe designer Arden Wohl certainly made the most of hers when marrying art star Jonah Freeman (best known for his work with creative partner Justin Lowe) over the weekend at Weylin in Williamsburg, Brooklyn, a restored venue originally built in 1975 as a bank. Their #ardenandjonah has 212 posts and counting. Let's take a look inside this picture perfect wedding, shall we?
Wohl wore two different dresses by her friend Zac Posen, who was in attendance. Here he is posin' (see what I did there?) with his creation. The designer also did an excellent job of documenting the wedding. Below is Wohl posing in her dress, and then practicing her vows (or practicing having a Princess Diana length train), and, here, finally walking down the aisle. The second dress was a shorter lilac version reminiscent of the first, but more apt for dancing. He also got a great shot of the bridesmaids, coordinated in floral but not matching. Matching dresses? Never!
The table settings were absolutely divine, featuring so much Millennial Pink that even the Mayfair filter cheered. However, by the end of the night the orchids and melted candles looked almost like a pornographic Georgia O'Keefe.
Who was in attendance? Well, Hamish Bowles was looking dapper as always and Nicky Hilton Rothschild was there too. So were Lauren Santo Domingo, Tara Subkoff, Fabiola Beracasa Beckman, and Stella Schnabel, but they weren't using the hashtag.
Since these two new bohemians are down with the art crowd, the Wohl's bridal shower, held late last month, has some even more experimental aspects to this holy union. Artist Andrew Yes, maker of fine spherical pillows, made 54 different Ardolls, as he called them, in the bride's honor. They are cloth stuffed Ardens with her face emblazoned on them and they were passed around at the reception. It's hard for any bride to be everywhere at once, but with these dolls, it's easy.
As for art at the wedding, the musician, former Moldy Peached-member, and occasional Macaulay Caulkin collaborator Adam Green also made this portrait of the couple for their big day. Luckily Freeman's hair doesn't look like snakes in real life.
It was a great night full of fun, dancing, some crazy outfits, a little bit of light cross dressing, and a live performance by Cory Kennedy, Adam Greene, and Dustin Yellin. Understandably it left Mandie Erickson feeling a bit like this the morning after. That's how you know an Instagram wedding was a #success.
Related: Arden Wohl Celebrates Her Vegan Footwear Collection for Cri de Couer
See What's Trending in W Video: