Ariana Grande Debuts Lavender Hair
Inspired by "God Is a Woman," perhaps?
---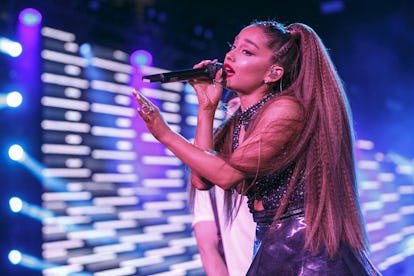 Rich Polk/Getty Images
And just like that, Ariana Grande has changed up her hair again. This time around, the "God Is a Woman" singer took to Instagram on Wednesday to reveal light purple hair, a slight change from the icy blue Chris Appleton creation that she debuted earlier this week. She captioned the photo simply "lavender," and showed off a set of nails painted in the same shade. The look was created by stylist Josh Liu, who referred to it as "lavender dreams" in a post on his own account.
Of course, what is an Ariana Grande post in the summer of 2018 without an onslaught of Pete Davidson comments? Right on cue, the comedian expressed his adoration by leaving five purple heart emojis in the comments section of her post.
While the inspiration behind Grande's new look is still up for speculation, it's impossible not notice that it looks notably similar to the color scheme in her latest music video for her single "God Is a Woman." Perhaps some of that purple body paint bled into her hair, and she liked the way it looked so much that she decided to make it permanent? Just a guess.
In terms of hair (and, well, everything else in her life, actually), 2018 has already been a big year for Grande. She surprised fans in May when she traded her usual chestnut strands for platinum ones, and lowered her signature high ponytail to the nape of her neck. Then, she let her blonde hair completely down to appear on the covers of Vogue and Elle before beginning to experiment with more adventurous colors of the rainbow.
While the singer has a tendency to stick with some variation of brown/blonde/bronde, this isn't the first time she's gotten a bit more creative with her color. Back in Grande's Disney days, she was known to rock a fiery red, and she tested out a purple-gray shade similar to her current one in October of last year. Who knows what is next.