Ashley Benson, Cara Delevingne's Rumored Girlfriend, Believes In Keeping Her Relationship Status Private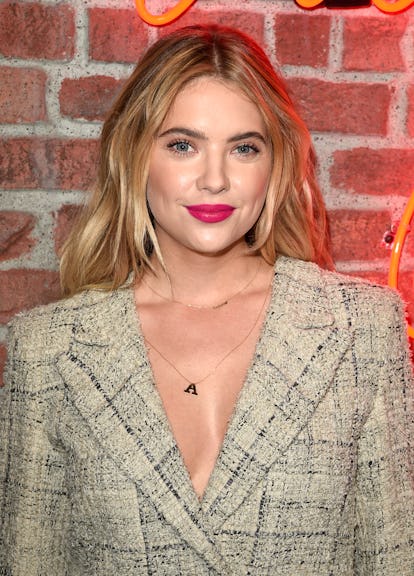 Jason Merritt
Rumors of a possible relationship have been swirling around Ashley Benson and Cara Delevingne for quite some time now; specifically, since they were first spotted leaving a New York bar together in May, hand in hand. It wasn't until this month, however, that the speculation really picked up steam, thanks to the British paparazzi, who snapped several shots of the duo kissing while waiting in the taxi line at London's Heathrow Airport this month. Those rendezvous, combined with the fact that Benson has recently been spotted sporting a necklace strung with "A" and "C" charms and was apparently in attendance at Delevingne's recent 26th birthday party, may have fans all but positive that the pair are officially dating. But, as Benson told People this week, we won't be getting any information about her relationship with Delevingne—let alone a confirmation that it's even a thing—from her.
When asked in general terms whether she plans on keeping her relationship status private for the foreseeable future, the Pretty Little Liars star said, "Yeah, I think so. I think that's the best way in any relationship. I've always been very private about them, and I think it's just better."
Benson, 28, also opened up about how she maintains that sense of privacy despite being tailed by photographers on a regular basis. "I mean, it's hard, I don't know, you kind of can't get away from that if you're in the public eye," she told People. "I just kinda try to keep myself as private as possible." It also helps, she added, that she lives in New York City. "I can live more of a normal lifestyle," she said. "I think in L.A. the paparazzi are really bad, and here I can kind of just walk anywhere and not be bothered, so it's very nice."
Despite Benson's non-comments about her maybe-relationship, neither of the model-actresses has shied away from posting photos of each other on their respective Instagram pages. Those snapshots date back to at least to the beginning of May, presumably around the time they started filming their upcoming indie flick Her Smell together. Most recently, Delevingne shared several shots from her wild birthday bash on her page last weekend, some of which show Benson in the back of jam-packed group shots. That said, thanks to Benson's vow of silence on the matter, no matter how much Insta-stalking you do, there's no way to know for sure what all those photographic cameos truly mean.
Related: Ashley Benson Is the Latest Star to Cut Her Hair Into a Lob