Asia Argento Has Shared a Statement on Anthony Bourdain's Death
The celebrity chef was found dead Friday at age 61.
---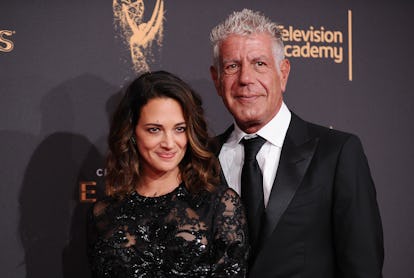 Jason LaVeris/Getty Images
Asia Argento has shared a statement following news of her partner Anthony Bourdain's apparent death by suicide. "Anthony gave all of himself in everything that he did," she wrote on Twitter Friday afternoon. "His brilliant, fearless spirit touched and inspired so many, and his generosity knew no bounds. He was my love, my rock, my protector. I am beyond devastated. My thoughts are with his family. I would ask that you respect their privacy and mine."
Earlier on Friday, CNN confirmed the passing of Bourdain, author, celebrity chef, and the host of CNN's Parts Unknown, at age 61. "It is with extraordinary sadness we can confirm the death of our friend and colleague, Anthony Bourdain," CNN said in a statement. "His love of great adventure, new friends, fine food and drink, and the remarkable stories of the world made him a unique storyteller. His talents never ceased to amaze us and we will miss him very much. Our thoughts and prayers are with his daughter and family at this incredibly difficult time."
Argento and Bourdain had been dating since 2016, when they met on the set of Parts Unknown's Rome episode, People reported. The two were not just a couple, but also creative collaborators, and Bourdain remained a staunch supporter of Argento when she became one of the most outspoken voices in the #MeToo movement following the revelation of her sexual assault allegation against Harvey Weinstein.
Other prominent figures have remembered the late chef on social media as well. "Anthony was devoted not only to @AsiaArgento but to the justice she and other Weinstein survivors were denied for so long," wrote CNN's Jake Tapper. "His righteous anger and his 'small, random acts of kindness and sincerity' is what I will remember most about him." Tapper quoted a tweet by Bourdain from May in which he wrote, "We will, I hope, be judged, eventually by seemingly small, random acts of kindness and sincerity. Spike Lee came through. @AsiaArgento."
"Maybe we all wanted to hang out with him. He was that cool, fun, frank, insightful. He introduced us to distant lands and to people with different traditions," wrote Mia Farrow. "And without ever preaching, he reminded us that we humans are far more alike than different. Thank you Anthony Bourdain."
If you or someone you know is going through a crisis, please call the National Suicide Prevention Lifeline at 1-800-273-TALK (8255) or contact the Crisis Text Line by texting TALK to 741-741.
__Related:__ Chrissy Teigen, Gordon Ramsay, and Others React to Anthony Bourdain's Death