Faith Hill's Daughter Audrey McGraw Made Her Front Row Debut at Versace Pre-Fall 2019
The Versace pre-fall runway show introduced a new scion into the mix: Audrey McGraw, daughter of Faith Hill and Tim McGraw.
---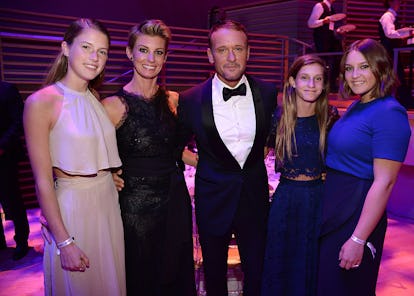 Kevin Mazur/Getty Images
The Versace pre-fall 2019 runway show was, of course, an extravagant spectacle of superstars that doubled as an extravagant birthday party for the late Gianni Versace. Kim Kardashian West and Kanye West made a front-row appearance together, as did Blake Lively, Lupita Nyong'o, Tracee Ellis Ross, and 21 Savage. Hailey Baldwin—who is actually going by Hailey Bieber now, in case you didn't get the memo—also hit the runway for the first time since getting hitched. But the hodgepodge of celebrity guests from across the board was no match for the introduction of a new A-list scion: Audrey McGraw, Faith Hill and Tim McGraw's youngest daughter, who made her front-row fashion debut.
Just days before her 17th birthday, McGraw, who is the youngest of three children, attended the Versace show with her mother, to whom she bears a striking resemblance. Although the youngest McGraw daughter's fashionable appearance on Sunday night may have come as a bit of a shock (the three children of the country music power couple are not typically embedded in the limelight like their parents), the McGraw children do have the musical talents required to one day make music on their own and become celebrities in their own right.
Audrey's two older sisters, Maggie, 20, and Gracie, 21, also share the musical gene. Videos of Gracie and Maggie taking the stage with their dad, and of Audrey performing with both parents, prove that the girls have the pipes to rival the vocal talents of their parents. In fact, it was Gracie who, according to her mom, once started her own band in secret. In a 2017 interview with New Beauty, Hill revealed that she and her husband had no idea that their eldest daughter, who taught herself to play the guitar, was starting her own group.
While Hill and McGraw encourage their children to follow their dreams, their parental advice did not come without some minor reservations. "Tim and I know what it takes to really do this for a living, but, as a parent, you don't want to stand in the way of their dreams. It's been one of the most difficult things for me as a mom—especially as a mom of all girls," Hill told the magazine. "You want to protect them; you want to make sure they aren't disappointed. I'm certain all parents would say that about their kids, but there is a point you have to remember, 'I was 19 once, and I remember the passion and the drive I had, and I just have to let them go and do it,'" she said. "Sometimes, it's better to let your children go through things on their own and let them experience it instead of saying, 'Don't do it this way, or you must do it this way.'"
And though the McGraw siblings tend to shirk the celebrity spotlight (Instagram remains a private resource for the trio), their mother is no stranger to posting throwback photos and car-ride sing-alongs on their behalf on her account, as celebrity moms are wont to do.
Related: Isan Elba, 2019 Golden Globes Ambassador, Says Please Stop Calling Her Dad, Idris, "Sexy"